Join us for the return of the Crystal Coast Grand Prix in Morehead City, North Carolina. This offshore powerboat racing tournament draws hundreds of spectactor boats to the Morehead City waterfront to watch as these state-of-the-art racing boats speed down the Intracoastal Waterway.
The best viewing spots for the race are on the water, however, spectactors can watch from anywhere along the Morehead City waterfront. Sugarloaf Island is another popular spot.
2023 Race Schedule (Sep 30th)
7am: Team Physicals at Jack's Waterfront Bar
8am: Racer Meeting at Jack's Waterfront Bar
9am: Race Course bouys set up
9am: Medical and Dive team briefing at Jack's Waterfront Bar
9am: Patrol Fleet briefing at Jack's Waterfront Bar
9:30am: Crane and Ramp Operational
10am: Race Control Operational
10am: Race Village Open
11:15am: Race Patrol Fleet and Course Support Fleet on station
12pm-5pm: RACING
7pm: Awards Presentation at Jack's Waterfront Bar
Actual race start time will be based on number of teams and is adjusted within the window of closure as required based on number of participants.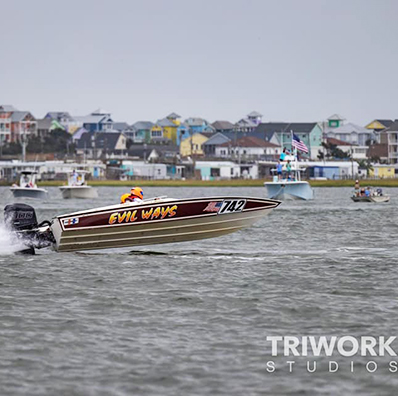 Ready to plan your stay?
Morehead City offers a variety of restaurants, shops and plenty of things to do, from fishing to beaches to boating. Plan your stay with Emerald Isle Realty and choose from a great selection of vacation rentals!