From secluded, sunny beaches to many exciting recreational activities, Emerald Isle invites you to do as much or as little as you'd like while visiting. Emerald Isle is at the top of the list for family-favorite vacation destinations, and it's easy to find enjoyment splashing through the waves or kicking back to take in one of our unforgettable sunsets. The coastal landscape is ideal for disconnecting from your day-to-day routine and giving yourself the rest and relaxation you need to recharge. To make your next trip to the Crystal Coast even more unforgettable, we've put together 8 Ways to Unplug and Unwind on the Beaches in Emerald Isle.
1. Hit the Beach
Emerald Isle is on North Carolina's Crystal Coast, and the sight of the endless ocean lives up to the name. The beach is the perfect place to reconnect with the island and unwind. With rolling waves on repeat, plenty of space for laying out, miles of soft sand and shoreline, your family will literally be in paradise. Leave your phone in the beach bag or back at your vacation rental and enjoy pulling out a chair, soaking up the sun and reading a book as your kids laugh and splash through the infinite supply of refreshing waves. The beaches are also perfect for anyone looking to surf, and a handful of local shops offer lessons and rentals. They're also great for solo wave sessions that aren't too challenging but still fun. Beach days are a favorite for locals and visitors alike, and both will agree that it's one of the best free activities to enjoy during your Emerald Isle vacation.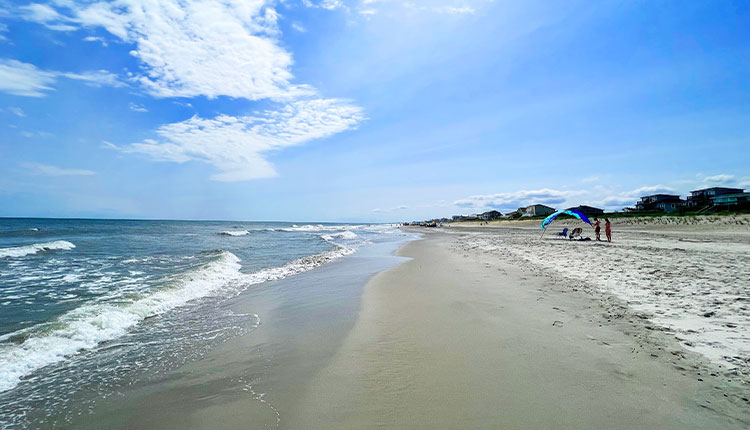 2. Tee it Up
A perfect getaway to the Crystal Coast can involve more than beach days and catching sunsets from the end of Bogue Inlet Pier. Prepare your club bag and practice your drive at the Crystal Coast Country Club. The Crystal Coast Country Club is located in Pine Knoll Shores and provides golfers with an 18-hole championship golf course beautifully situated along Bogue Sound. This par-71 course features three sets of tees, lush fairways, challenging water hazards on 13 of the 18 holes, deep bunkers and much more. This top-tier golf course's designers ensured players could still experience the natural landscape while advancing down the fairways. To experience the island's natural scenery and enjoy your favorite game, be sure to stop by the Crystal Coast Country Club.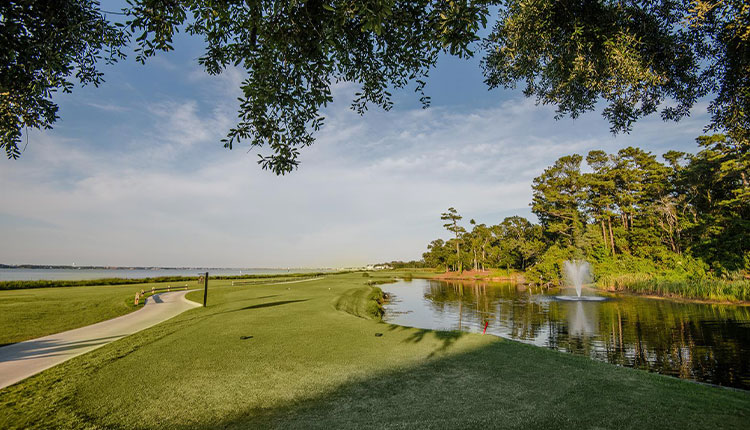 Your options don't stop here! Be sure to view all of the nearby golf courses and make your way through the list or pick the one that interests you the most.
3. Paddle Out
Another good way to align yourself with nature is by getting out on the water. Spend a long day surfside at Hammocks Beach State Park over on Bear Island. Getting there is an adventure in itself. You could hop on a passenger ferry, book a private boat, or by paddling yourself in a canoe or kayak. Within Hammocks Beach State Park, you'll find wild dunes, sand ridges, marshes and wetlands full of wildlife. The beaches are peaceful and uncrowded, and the waters are some of the bluest along the coast. If you don't have a canoe or kayak, don't stress. Many kayak rental services are ready to help you get on the water.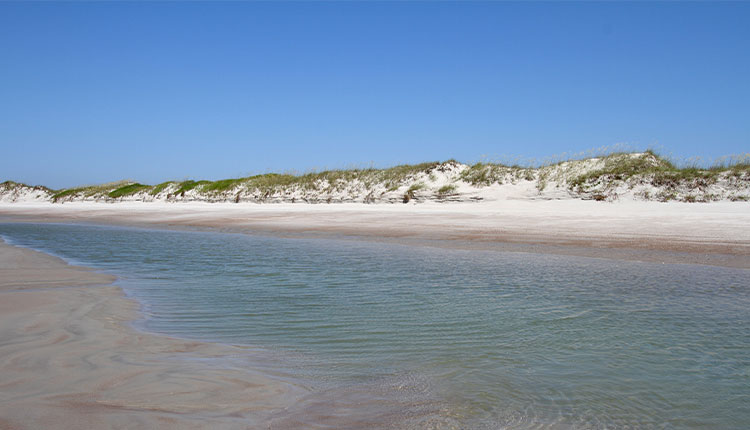 4. Raise a Glass
Over the years, the craft beer community has grown and attracted the unexpected to partake in various sudsy creations. While traditional beers become nostalgic, brew masters are quickly gaining celebrity status, and a local brewery is a new spot for families and friends to bond over good eats and cold drinks. North Carolina's Crystal Coast boasts a treasure trove of craft breweries ready to welcome you and your family. Over in Cedar Point, Mythic Brewing offers a variety of brews inspired by video games, modern monsters and pop culture. It's the ideal spot for those looking to take a trip on the wilder side of flavors. In sunny Atlantic Beach, cool off with a glass of your favorite brew from the Crystal Coast Brewing Company. The family-owned establishment brews its recipes in Eastern North Carolina with many locally sourced ingredients. The whole family can enjoy hours of fun in the game area playing shuffleboard, giant Jenga, video games, corn hole and more. With plenty of indoor and outdoor space, it's the ideal spot to chill out with friends and family.
Be sure to read our blog highlighting the Best Breweries near Emerald Isle!
5. Admire Nature on the Coast
Cape Lookout National Seashore is a 56-mile section of the Crystal Coast rich with wildlife, natural unspoiled scenery and pristine shoreline. There are few beaches as uninterrupted as Cape Lookout, its seclusion from the coastal communities has allowed wild horses to roam free in certain spots of the island. Trek your way through the green marshland as soft waves create the perfect atmosphere. The shallow water is ideal for kayaking through the inlets and creeks and also provides a close-up view of the birds and marine life.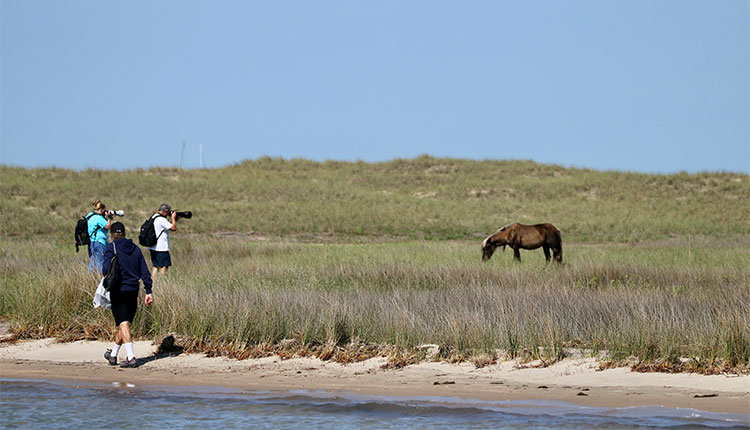 As you enjoy the wildlife, be sure to keep your distance and refrain from feeding them. These are wild animals and our coast relies on them and their contribution to maintain the area's beauty.
6. Go Back in Time
In addition to the traditional island experiences and activities found throughout Emerald Isle, there's a lot more to explore in the areas surrounding the coastal town. Go back in time by driving about 30 minutes down the road to Beaufort. The third oldest town in North Carolina is sure to be rich with stories of the past. Take a trip down memory lane and discover the state's culture at Beaufort Historic Site. Visitors can tour the historic homes of Josiah Bell, John C. Manson and other prominent figures from the past. Over in New Bern, you can enjoy the rich cultural history of Tryon Palace. Originally built in the late 1760s. Today, visitors can enjoy the rebuilt structure and explore the 14 acres of exquisite gardens. Tryon Palace is a piece of North Carolina history that you won't want to miss!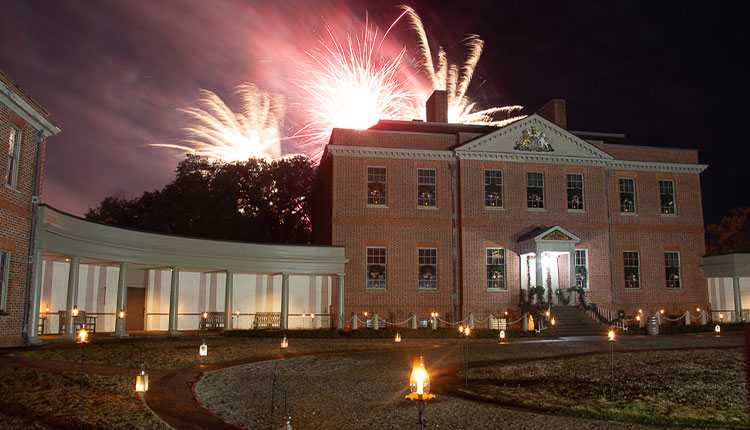 There are many other communities along the Crystal Coast with unique stories and things to do, so whether it's your next trip or the one to follow, be sure to visit as many as you can. The locals will welcome you like you're one of them and immerse yourself in the cultures you can only find here.
7. Coastal Flavors
Food holds a lot of power over us, and a simple dish can send us on an emotional journey back to memories we cherish. Emerald Isle is home to various eateries, each with their own local flair. If you're looking for a family dining experience, be sure to grab a bite at Amos Mosquito's. The Atlantic Beach eatery's Chef infuses the latest culinary trends and creates entrees with the restaurant's unique style. Their curated menu provides many delicious entrees featuring classic seafood favorites, burgers and steaks grilled to your liking. The cozy dining room boasts jaw-dropping views of Bogues Sound and the picturesque Atlantic Beach Bridge.
With endless dining opportunities, you'll want to visit a few more throughout your trip. Whether it's breakfast, lunch or dinner, each restaurant brings its own story and flavor.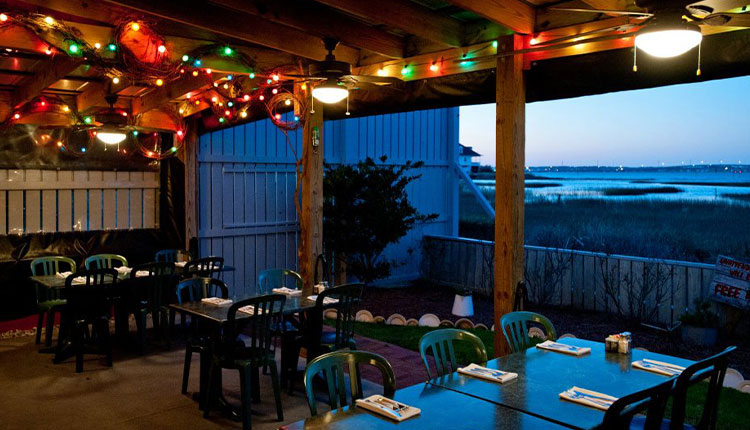 8.  Relax with Oceanfront Views
When you visit Emerald Isle, there are plenty of stunning sites to see, but nothing compares to the breathtaking sites of the sun setting or rising along the horizon. Catching a sunset is a must-do for you and your family while you visit. The sun can relax us and reset our mood for the day or night. These natural masterpieces paint the coastal sky each evening with vibrant hues of orange, red, yellow, blue and purple! Knowing that every priceless sunset will be different gives you and your family more reason to enjoy them daily. Whether it's a jog in the morning or a stroll in the evening, these oceanfront views will not disappoint.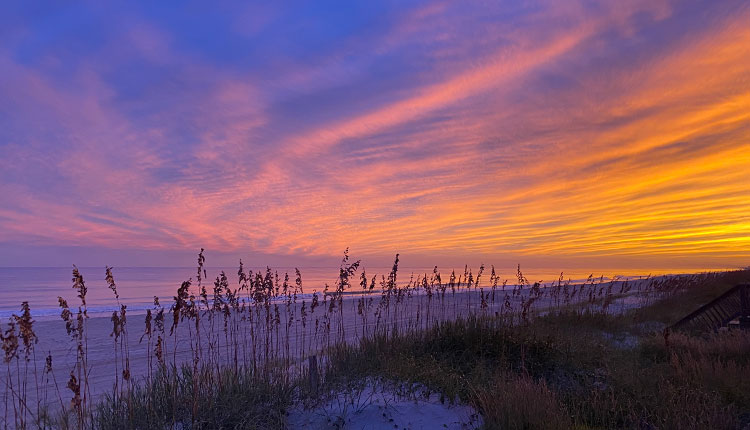 Start Planning
However you spend your getaway, Emerald Isle is the ideal destination to unplug, unwind and savor every moment. Emerald Isle Realty boasts more than 600 vacation properties designed to provide you with the comfort and luxury you want and need. We look forward to welcoming you to our coastal paradise!
Save it for Later