Pets have a special place in our hearts as soon as they're welcomed into the home. We create new memories with them and over time they become more than a faithful companion. They become part of the family. These days, it has become common for us to treat our family dog as more than just a pet. When families plan their vacations, more research is done on places to stay, eat, and play that welcome their favorite furry friend.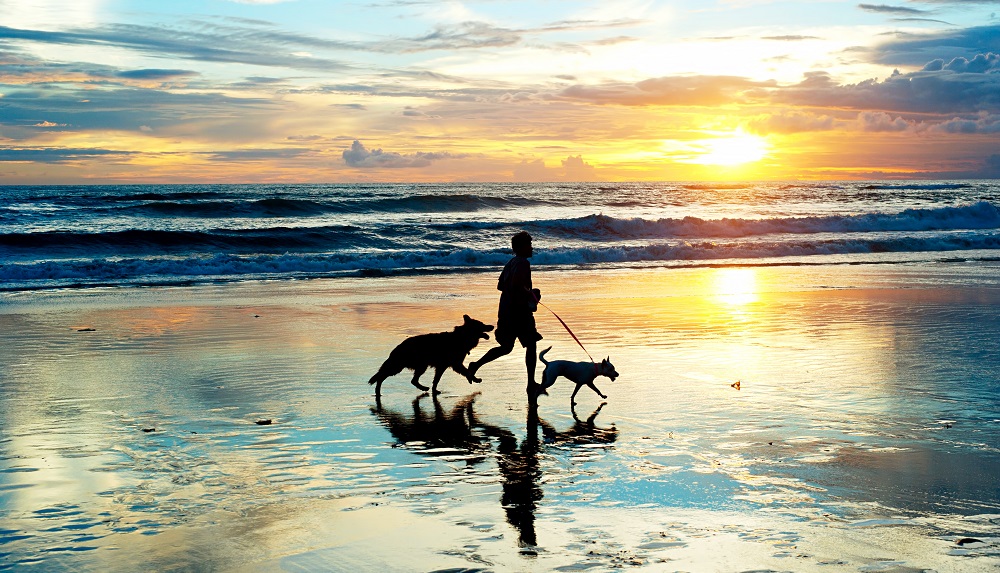 At Emerald Isle Realty, we love our pets too, and we boast more than 100 pet-friendly vacation rentals for whatever time of year you want to visit. Check out a few that are available for your next family vacation.
Pet-Friendly Things to Do on North Carolina's Crystal Coast
If dogs are a human's best friend, then the outdoors is theirs. With high energy and roots in nature, our four-legged buddies naturally thrive as they trek through trails and run through the sand. With plenty of outdoor activities and natural locations throughout the Southern Outer Banks, it's easy to see why it is the best vacation destination for you and your pet.
Beaches
The Crystal Coast has miles of shoreline to explore. The golden sand and emerald waves are awe-inspiring to anyone who sets their eyes on them. Your pups will enjoy getting some sand between their paws and ocean spray on their fur. While dogs are allowed to enjoy the treasures of our beaches, please remember to keep them on a leash at all times and clean up after them. They're going to love being a part of all of the action, whether you're taking a long sunset stroll or looking for that perfect shell to add to your collection.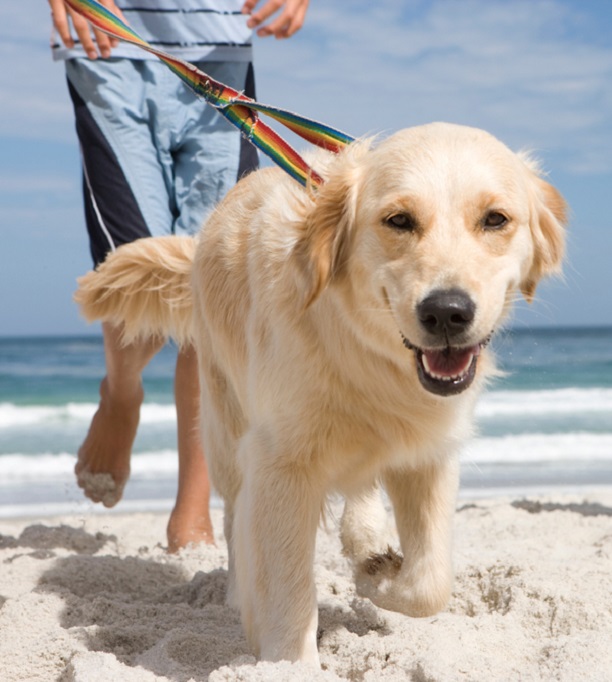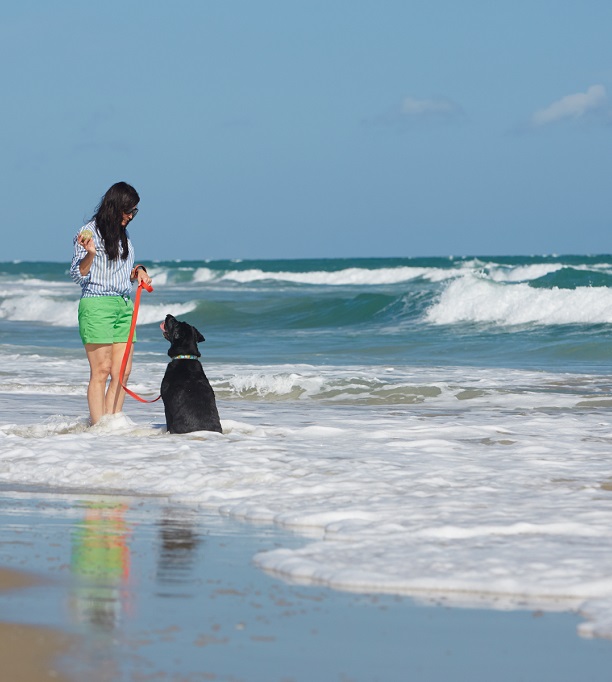 Walking and Hiking Trails
There are dozens of walking and hiking trails in the area where your dog can accompany you on an adventure. The Crystal Coast is also home to the Croatan National Forest. This coastal woodland is home to a variety of habitats and ecosystems and is an outdoor enthusiast's paradise! There's a variety of trails that take hikers and their pets through swamplands and even pine forests.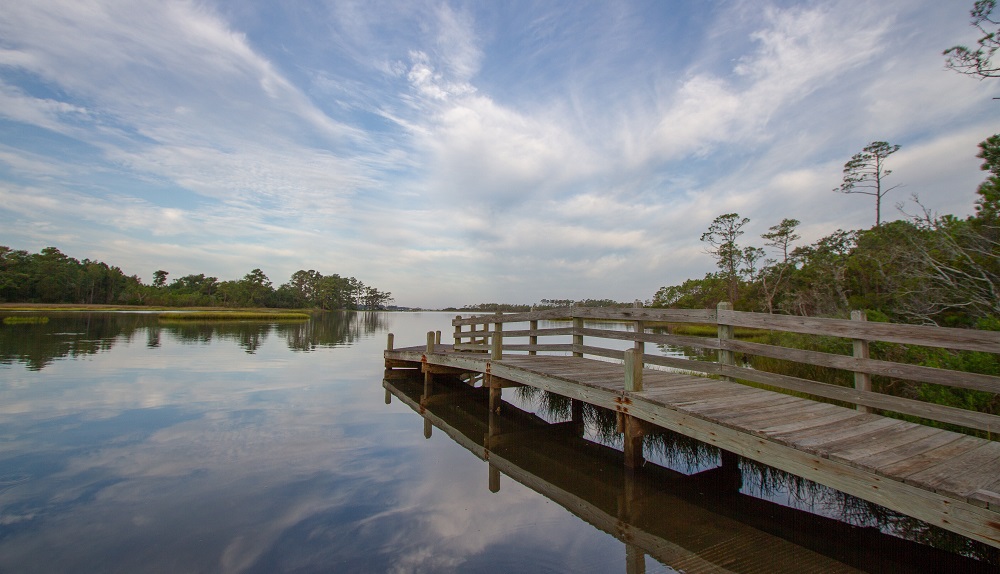 One notable trail that is popular with dogs and their humans is the Patsy Pond Nature Trail. This scenic trail winds through an area called the Longleaf Pine Flat Woods and is filled with beautiful longleaf pines, low-growing herbs and shrubs.
The nearly two-mile trail at Emerald Isle Woods Park is another favorite location for visitors and locals alike. The 41-acre park also features boardwalk access to Bogue Sound with a floating dock and kayak launch. You and your dog can enjoy going for a walk or jog along the trail and then get on the water for a new experience. Emerald Isle Woods Park trail is also part of the North Carolina Birding Trail. Be sure to keep an eye out for several native birds, woodpeckers and shorebirds. Plus, you might even spot some white-tailed deer and plenty of squirrels, so remember to keep your dog on a leash!
Pine Knoll Shores is home to another natural area filled with adventure. The Theodore Roosevelt Natural Area is a vast 265-acre nature preserve, conveniently located next to the North Carolina Aquarium. The maritime forest boasts two trails for you and your pup to explore, The Roosevelt and Alice Hoffman Nature Trails. The Roosevelt Trail is a 1.25-mile-long path that is the more challenging of the two. This trail is perfect for dogs who love to climb and move through obstacles, and it scales a high dune ridge while winding around the marshes. If you and your pet need to rest, there are plenty of benches along the trail. There are also wildlife viewing areas stationed along the trail route, perfect for enjoying the breathtaking views and the hundreds of birds that call these marshes home each year. Be sure to be on the lookout for birds, insects, lizards, turtles, deer and other animals. It's the perfect atmosphere for exploring with your dog.
The Alice Hoffman Trail is a shorter, .7-mile loop trail that is the ultimate choice for families and pets of all skills and ages. The trail is still filled with plenty of those stunning, natural views. It leads out to a viewing blind on East Pond and then loops around through the marsh.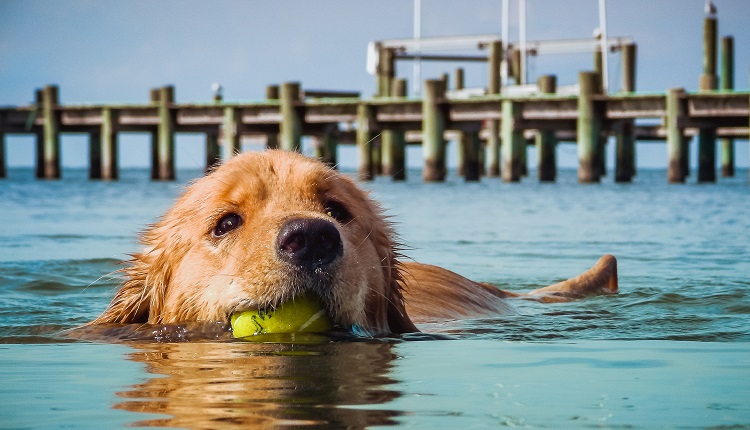 State Parks
You may also want to take a journey through some of the local state parks. Hammocks Beach State Park is located just south of Swansboro and welcomes your leashed dog. The beaches here are some of the most beautiful beaches on the East Coast, with miles of unspoiled barrier island beaches and maritime forests. The State Park provides families with many activities that are fun for all ages as well as your dog. You can enjoy swimming, sunning, picnicking, fishing, camping, shelling, boating and much more.
Pet-Friendly Restaurants in and Around Emerald Isle
Even if you're staying in a vacation rental with a luxurious stovetop or deluxe grill, you'll still enjoy getting out to explore the dining options around the Southern Outer Banks area. Experiencing the local cuisine is one of the highlights of any beach vacation, and your dog shouldn't miss out on the fun experience. We've compiled a list of restaurants in the area that make sure no pooch is left behind!
Church Street Irish Pub & Deli
If you're in or around Swansboro, you and your family will enjoy the specialty sandwiches at Church Street Irish Pub & Deli. Choose from classic delicacies like the Reuben or treat your tastebuds to one of their original creations like Gus' Steak and Cheese. The outdoor seating provides plenty of shade while you enjoy your meal, and there is enough space for dogs to relax.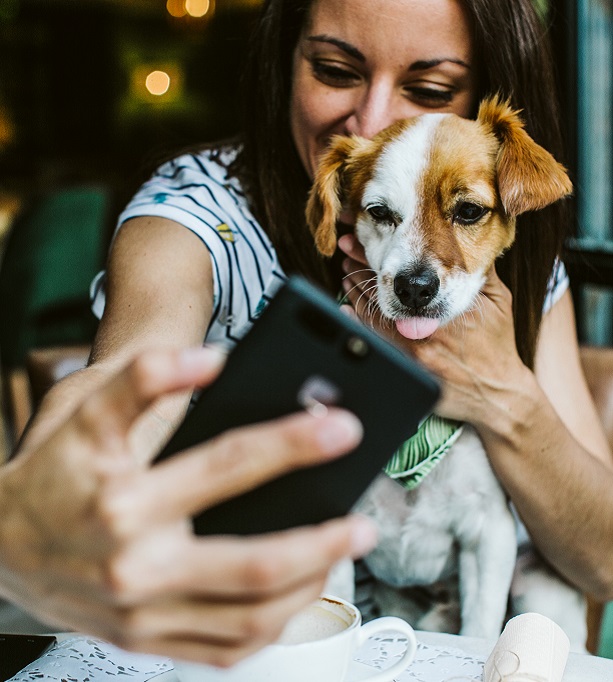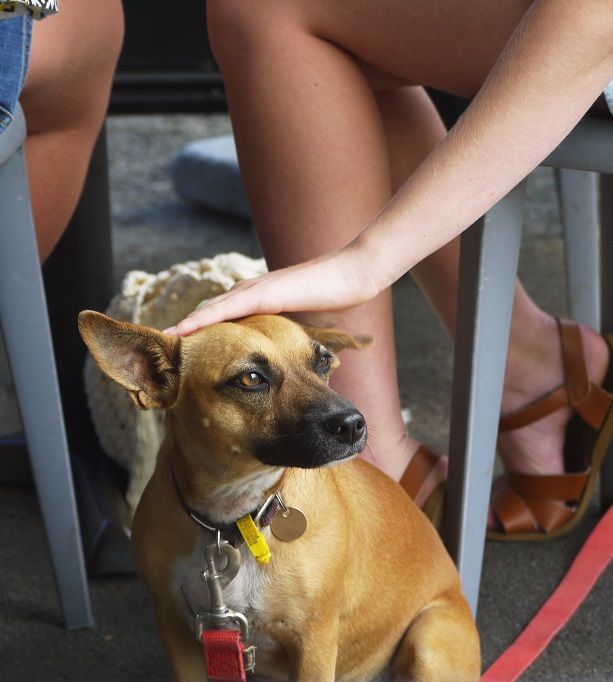 Village Market
In Emerald Isle, the Village Market is a pet-friendly, locally-owned gourmet deli and sandwich shop boasting freshly-made meals with top-choice ingredients. Be sure to look over their selection of well-crafted beverages when you visit for the perfect refreshment to top off your meal.
Dank Burrito
Dank Burrito, located in Morehead City, offers something a little different on the Crystal Coast. Spice up your afternoon or evening at this unique Mexican-American eatery. Not only can you visit their primary location, but you can also catch them traveling around in their food truck! They specialize in delicious tacos and hearty burritos, and your pup is welcome to join the family at one of their pet-friendly outdoor tables while you enjoy your meal.
Pet-Friendly Vacation Rentals in Emerald Isle
Blissful Sunburst West
Blissful Sunburst West is a second-row duplex located in Emerald Isle. This coastal retreat boasts four bedrooms and two bathrooms. You, your guests, and your pet will quickly enter the vacation state of mind while staying at this cozy beach home. Blissful Sunburst West provides guests with a spacious living area, plenty of seating for relaxing, and a flat-screen TV for entertainment. The modern kitchen features beautiful granite countertops and all the desired appliances. Each room is uniquely decorated with ocean-inspired art and immerses you in beach vibes.
Getting to the beach will be a breeze. This rentals' second row location will get you to the waves in no time at all. You and your furry friend will enjoy early morning walks along the beach to watch the sunrise. Whether you and your family are spending time playing in the sand or viewing a breathtaking sunset from the beautifully, furnished decks, this pet-friendly rental in Emerald Isle will provide you with the vacation of a lifetime.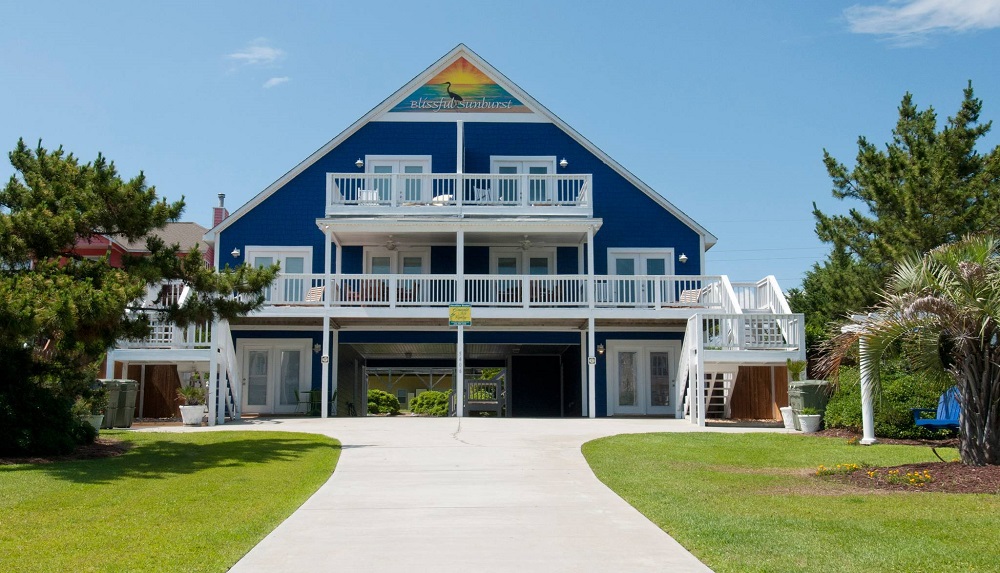 Sound of the Sea 103 E
Sound of the Sea is a collection of oceanfront condo rentals that are perfect for anyone planning an Emerald Isle adventure with their dog. Sound of the Sea 103 E is a four-bedroom, three-bathroom beachfront condo with a variety of desired amenities. With a spacious living area, cozy bedrooms and ocean views throughout, you and your furry companion are sure to enjoy your stay at this coastal retreat. The golden sands of the Crystal Coast and refreshing waves are just a stone's throw away from Sound of the Seas 103 E, making this rental a prime location for all your coastal adventures.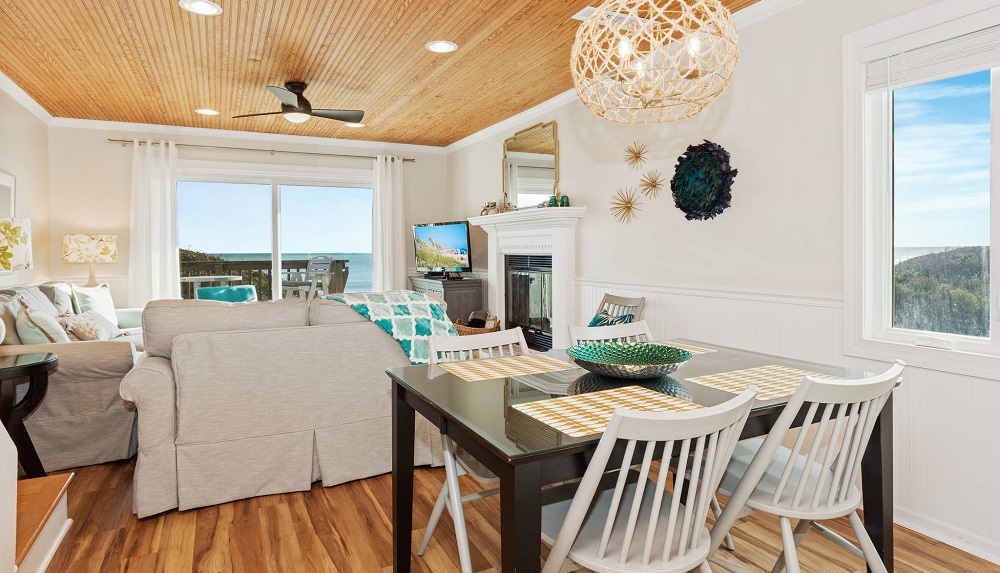 My Happy Place
My Happy Place is your family's ideal island getaway if you're looking to stay in a private home! This pet-friendly oceanfront cottage is located in Emerald Isle and boasts seven bedrooms and five bathrooms. You and your family will vacation like royalty here, as this home provides the ultimate island atmosphere. At My Happy Place, even your pup will find plenty of cozy spots to catch a nap. This luxurious Sand Castle home boasts an upstairs and downstairs entertainment area and the main living room provides you and your guests with large sofas, armchairs and a large smart TV for your entertainment.
All rooms are furnished for maximum comfort and relaxation for you and, yes, your four-legged friends too! This beach home offers easy access to the Emerald Path, Emerald Isle Woods, and multiple shopping centers for snacks and dog treats, making it the perfect place to stay with pets who love a little outdoor adventure.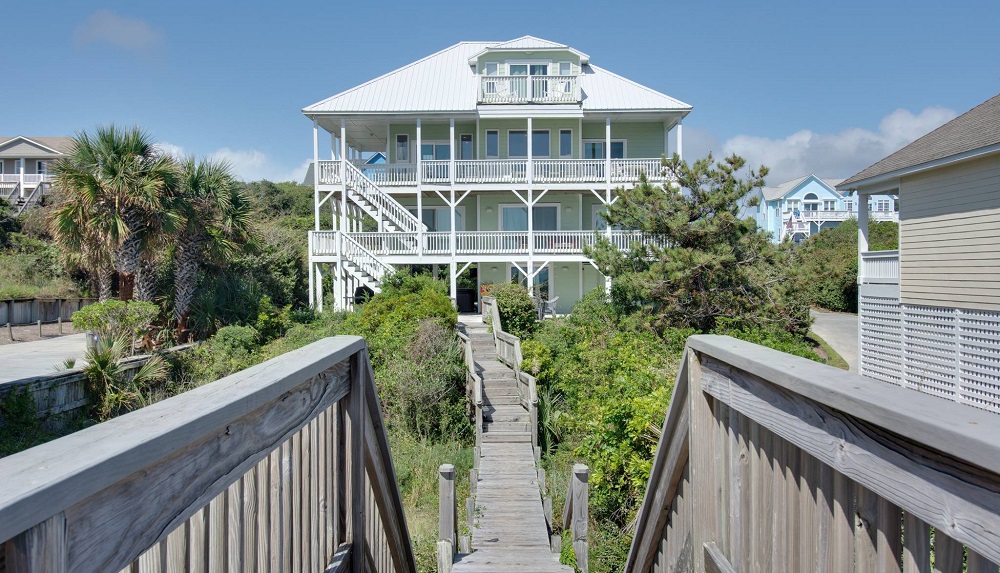 We have many more properties that will serve you and your furry friends' needs, so be sure to check out our full inventory of pet friendly vacation rentals in Emerald Isle to see what works best for your family!
---
Flip through the web story below to explore some of our pet-friendly oceanfront vacation rentals in Emerald Isle and Atlantic Beach. You're sure to find the perfect place to stay!
---
Plan Your Pet-Friendly Vacation on North Carolina's Crystal Coast
Next time you are planning a nice getaway, remember that even your pets deserve a vacation from time to time! Traveling together is an opportunity for your family and furry friend to recharge your soul and refresh your mind with the ones you love. Book your next pet-friendly getaway on North Carolina's Crystal Coast with Emerald Isle Realty and give your entire family the vacation of a lifetime.
Save it for Later