More and more these days, the family dog is starting to be treated like more than just a pet. They are considered as almost an equal member of the family. And now when families are planning their vacations, more emphasis is placed on where they can stay, eat, and play that welcome their favorite furry friend. At Emerald Isle Realty, we love our pets too. So we've put together a brief guide on how to plan the best vacation on the Crystal Coast for dogs.
Places to Stay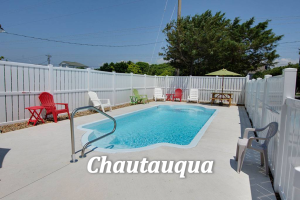 Whether you're traveling by land or by air, or maybe even by sea, once you arrive at the Crystal Coast, Emerald Isle Realty is the place to go. We've got over 100 pet friendly vacation rentals, for whatever time of year you want to visit. Check out a few that are available for your next family vacation.
Chautauqua East and West is an almost oceanfront second row duplex in Emerald Isle with 3 bedrooms and 2 bathrooms on each side, with Island Club linen service. New furnishings were added in the living room just this year, plus enjoy granite countertops, ceiling fans, and multiple flat screen TVs.
You and your dog will enjoy excellent ocean and sound views from private decks with porch furniture, with the soundside decks recently enlarged! There's also a connecting door to each side, if needed for two families vacationing together, as well as a swimming pool, outdoor shower, basketball court, and plenty of parking.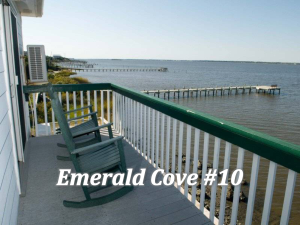 Emerald Cove is a collection of luxury soundfront and soundside condo rentals that are perfect for a small family or couple traveling with their dog. Emerald Cove #10 is an upstairs 1 bedroom/1.5-bathroom suite with a large range of amenities. You can spend a day swimming in the pool, that features an outdoor shower, or relax on the soundfront dock. If your vacation dreams include these nearby features, windsurfing, kayaking and fishing, look no further. This rental is in a prime location for all outdoor adventurers.  With the lovely landscaping and large grassy area your dog is sure to get their fill of outdoor fun as well.
Second to None East is a second row duplex with 4 bedrooms and 2 ½ baths, with all beds made by Island Club linen service. It has a fully equipped kitchen with granite countertops, 6 cable TVs with HBO, 3 DVD players with DVD library, wireless high speed internet access, and ceiling fans throughout. You'll also enjoy a bonus room on the ground level with TV and DVD player and an assortment of card and board game. Outside, you'll find covered and open decks with porch furniture, enclosed hot/cold shower, basketball goal with basketball, and a covered carport. All with great ocean view and easy beach access across the street.
Places to Dine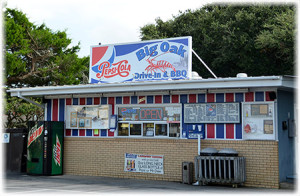 Even if you're staying in a vacation rental that has a gas or charcoal grill, you'll still want to get out and explore the dining options around the Southern Outer Banks area. The local cuisine is always one of the highlights of a beach vacation, and your dog shouldn't miss out on the fun experience. We've compiled a list of restaurants in the area that are pet-friendly, and also very delicious!
If you're in or around Beaufort, grab some delicious pizza, crab cakes, or Caribbean jerk chicken at Queen Anne's Revenge, where the outdoor seating is perfect for dogs. The Boardwalk Café is open for breakfast and lunch, serving up yummy omelets, pancakes, waffles, grilled sandwiches, and numerous seafood options. Their outdoor patio overlooking the downtown boat docks welcomes dogs. If it's happy hour, head to the historic Backstreet Pub. Dogs are welcome inside and out, and all will enjoy the live music, laidback atmosphere, and generous selection of tap and bottled beers.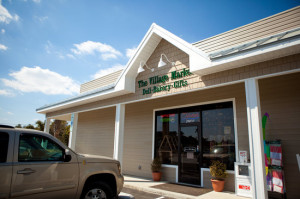 While in Salter Path, chow down at Big Oak Drive in and BBQ, where they serve up scrumptious shrimp burgers that you eat in your car, making it perfect to bring our dog along. When you're in Emerald Isle, visit the Village Market. It's a locally owned gourmet deli and sandwich shop that pride themselves on providing their customers with homemade specialties that are prepared fresh every day. They welcome your pets on their outside decks.
Swansboro is another town that has multiple options for pet-friendly dining. The Icehouse Waterfront Restaurant offers a variety of seafood, burgers, and flatbreads that you can with your dog on their front porch tables. For a little more international cuisine, head just across the bridge from downtown to Santorini's Mediterranean Grille. Dogs are treated to a clean bucket of water, a small milkbone and a stunning waterfront view for your family and fur baby to enjoy over a meal or sunset happy hour. Or check out the Church Street Irish Pub and Deli, which serves hot and cold sandwiches, hot dogs, and salads you can enjoy with your pet at their outdoor tables. If you're looking for just some beverages and snacks, visit Bake, Bottle, and Brew. Dogs are welcome at their outdoor tables while you enjoy flavorful ice cream, hot and iced coffee, craft beer, or wine, all with a spectacular elevated view of downtown or the Intracoastal Waterway.
Places to Play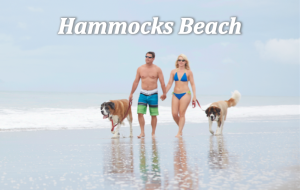 Dogs naturally live for the outdoors, and that's why the Southern Outer Banks is the best vacation destination for you and your pet. There are plenty of outdoor activities and attractions that you and your furry friend can enjoy.
Dogs are allowed on the beaches and in the water, but remember to keep them on a leash at all times and clean up after them. They're going to love being a part of all of the action, whether you're talking a long sunset stroll with your honey, or looking for that perfect shiny shell along the coast. You could even teach your dog to fish with you!
There are dozens of walking and hiking trails in the area where your dog can accompany you on an adventure. The trail at Emerald Isle Woods Park is a 1.7-mile path that is ideal for walking and jogging with your dog, and provide beautiful views of Bogue Sound and the Cameron Langston Bridge. With the trail being part of the NC Birding Trail, you are sure to spot several native birds, woodpeckers and shore birds. Plus, you might spot some white-tailed deer and gray squirrels, so be sure to keep your dog on a leash!
Another great trail exists in the Theodore Roosevelt Natural Area, an expansive 265-acre nature preserve, conveniently located next to the town's most visited attraction, the North Carolina Aquarium. The 1.25-mile-long trail winds along the top of a high dune ridge and alongside interior and soundside marshes. You and your pet will be surrounded by the beautiful maritime forest, and be on the lookout for birds, insects, lizards, turtles, deer and other animals. It's the perfect atmosphere for exploring with your dog.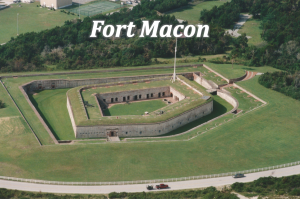 You may also want to take a journey through some of the local state parks. Hammocks Beach State Park is located just south of Swansboro and welcomes your leashed dog. The beaches here are some of the most beautiful beaches on the East Coast with miles of unspoiled barrier island beaches and maritime forests. The State Park offers many activities that are fun for the whole family, including your dog. You can enjoy swimming, sunning, picnicking, fishing, camping, shelling, boating and much more.
Fort Macon State Park in Atlantic Beach is a historic landmark and home to a Civil War fort. Located on Bogue Banks near Atlantic Beach, Fort Macon State Park is surrounded by three sides of water – the Atlantic Ocean, Beaufort Inlet and Bogue Sound. The prime attraction for canine hikers here is the best dune-backed beach walking on the Crystal Coast. In addition to the wide sand at low tide, your dog can explore the shallow waters and crannies around the jetty at the end of the island. Just a friendly reminder that dogs are not allowed in the bathhouse or at the swimming area, but they can spend the day enjoying the entire park with you.
Dogs have become a major part of people's families, and we want to ensure that includes them on your vacations. So this year as you plan your summer vacation in Emerald Isle make the arrangements so the entire family can come, including Fido. With our large selection of pet friendly rentals and lots of places to play and dine, it will be a vacation your entire family will remember forever. Start planning on making many memories today at the Crystal Coast.