When it comes to Valentine's Day, it's lovely to wrap up a gift and order flowers, but what's even better is to share an experience. Wouldn't it be romantic to escape from everyday life's hustle and bustle? A getaway to North Carolina's Crystal Coast gives you and your sweetheart a chance to make memories that last forever and never go out of style.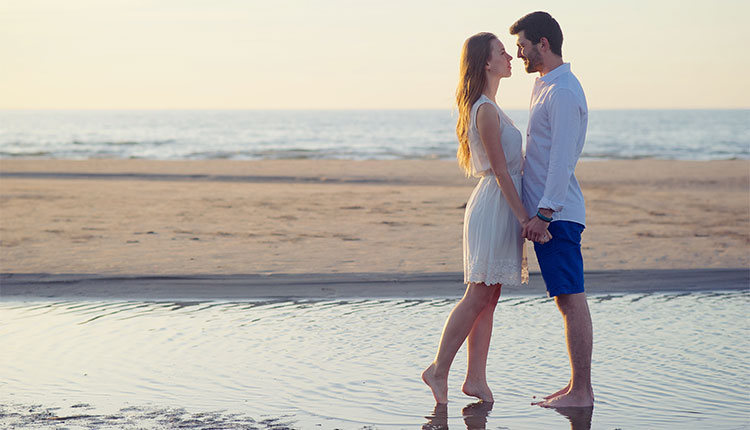 Emerald Isle is a beautiful destination offering miles of shoreline, delicious dining options and many attractions throughout the island. As you read our wanderlust-inspiring ideas of sweet moments, take notes and begin to draft your long romantic weekend getaway itinerary!
Day 1: Romantic dinner and moonlit cruise
Get a head start on the weekend and arrive at Emerald Isle before check-in time. Scope out the local fare and cruise through the island listening to a playlist of your favorite songs. Driving by the scenic views of Bogue Sound will be a welcoming sight and get you ready for a relaxing time on the island. Pick out a spot for a picnic or discover locations you would like to visit during your stay. Nothing brings two people together more than exploring a new town.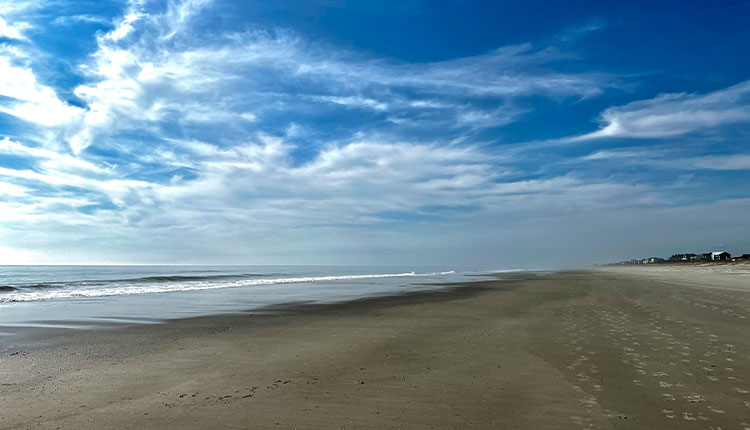 After checking into your vacation rental, unpack and settle in before heading out to dinner for two. Emerald Isle is home to a variety of restaurants. From casual dining to gourmet meals and specialty cocktails, there's something for everyone. Visit our dining page to learn more about these great dining options. After dinner, end the first evening of your trip with a romantic moonlit cruise. The night sky shimmering on the water will be a moment you two will never forget.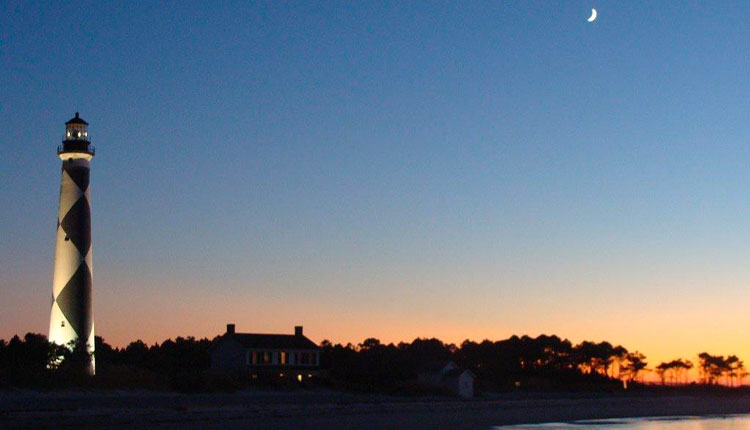 Day 2: Get out on the water
The first morning of a vacation is second to none, so wake up a little earlier and prepare a delicious breakfast! After enjoying a cup of coffee, omelet and orange juice, spend the morning at the North Carolina Aquarium at Pine Knoll Shores. The aquarium gives you a close look at the coast's aquatic wildlife. You can enjoy a quiet moment watching the precious river otters play or step out of your comfort zone and pet a stingray. The aquarium is also near the beach. After visiting the exhibits, you can walk along the shore and look for seashells. These precious keepsakes will always remind you of your visit to this popular attraction.
After visiting the aquarium and shelling, head back into town and pick up provisions for a romantic afternoon picnic on the beach. Leave your Bluetooth speaker in the car and enjoy your lunch with the background sounds of the Atlantic ocean. Beachside picnics are simple pleasures and can be a memorable experience to enjoy as a couple.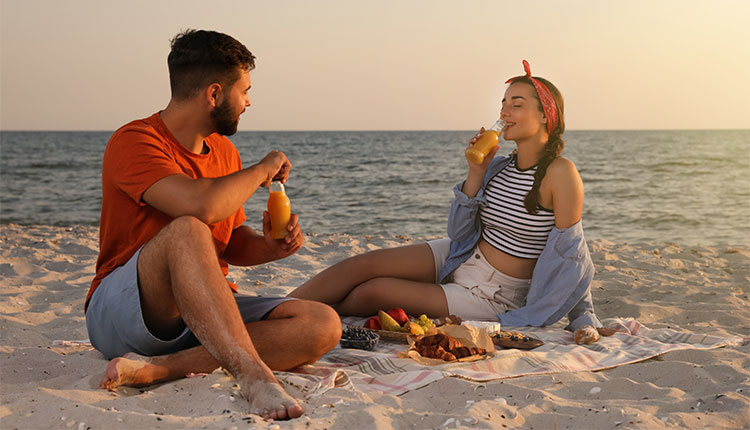 Once you've enjoyed a meal with a picturesque view, it's time to get on the water. Spend the rest of your afternoon experiencing something new like kayaking or paddle boarding. These coastal sports are thrilling activities that provide you with new views of the island. When you're skimming through the waters of the Outer Banks, there are many pristine waterways, inlets and tidal creeks for you to explore.
Not only do paddle boarding and kayaking get your heart pumping, but it also gives you and your travel date plenty of photo-ops. You can take a guided tour or rent a kayak or board for yourself. This experience will make any Valentine's Day getaway one you'll never forget.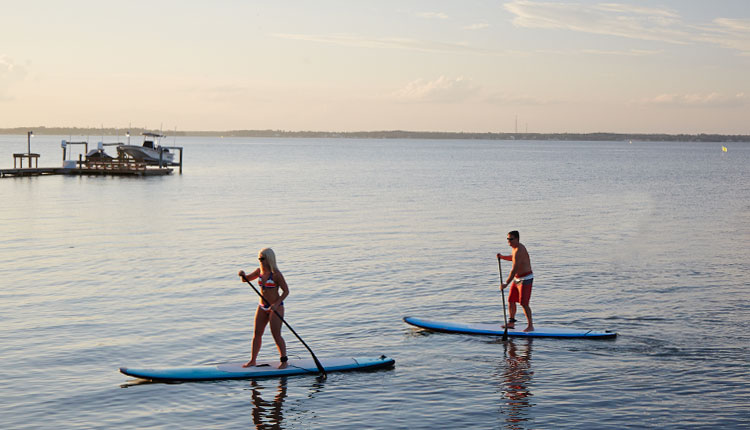 At the end of the day, head back to your vacation rental and enjoy a slow night watching your favorite movies or take a brief stroll along the beach painted by the moon and stars.
Day 3: Relax and soak up the sun on beautiful beaches
Once you wake up from a good night's sleep in your primary suite, you will feel refreshed and ready for more Crystal Coast adventures. Get an early start on the day, head to the beach and enjoy your morning coffee with a dolphin watch. It'll be a memorable opportunity to appreciate the playful wildlife and the coastal sunrises are second to none. Feel the warmth of the sun kiss your skin as it rises and feel charged to take on another fun day along the Crystal Coast.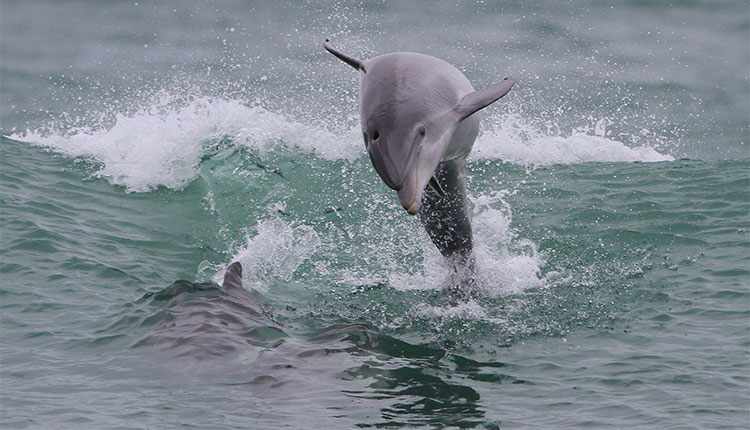 When it's time to head to lunch, choose a local eatery in one of the surrounding communities. From quaint restaurants to craft breweries, the surrounding neighborhoods each embrace the Crystal Coast's culture in their own unique way. Following lunch, enjoy the vibrant landscape by way of paint and brush. Be sure to visit each communities' local art galleries and museums. You and yours will be able to learn about the area's history and enjoy artwork from local and regional artisans.
When you've completed your journey throughout the coast, dive into some local cuisine with a romantic dinner. Whether it's a fire-grilled steak or a savory seafood dish, Emerald Isle and other communities are filled with plenty of romantic dining options. Many Carolina Coastal restaurants boast waterfront views that create an intimate setting that will be remembered for years to come.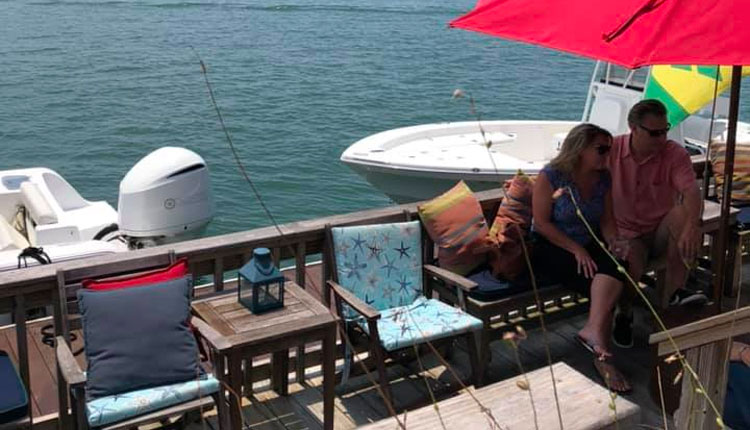 The meal has been finished, the dessert was a delight and now you're headed back to your vacation property. Many of our charming properties provide you with a cozy living room and some even offer a fireplace. Snuggle up with your special someone and share a bottle of wine while the gentle flames dance into the night.
Day 4: Visit some of the area's most popular attractions
The final day of your romantic getaway should be soaking in as much of the coastal vibes as possible. Take some time to visit your favorite attractions, take pictures and get in some selfies! Emerald Isle provides you with plenty of scenic backgrounds to capture your coastal vacation.
Plan it out perfectly, and you can top off your day at the end of Bogue Inlet Pier. It's more than a hot spot for those looking to reel in a redfish, this pier provides locals and visitors with elevated views of Emerald Isle. Stay until sunset and witness the shoreline light up as the night sets in. Don't be surprised if you look back on these photos and feel inspired to make a trip to Emerald Isle a Valentine's Day tradition.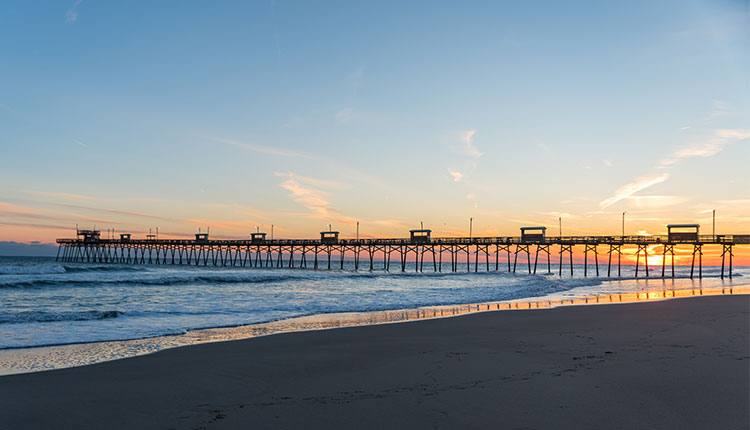 Make your way down the pier and embrace the seductive setting of a moonlit beach. Take your Valentine for a walk and be in awe of the stunning night sky. Walking hand-in-hand along the beach below the moon and the stars is an amazing experience.
End the night back at your vacation property. Nothing says relaxation quite like a hot tub, and many of our rental properties have the perfect options for a romantic getaway. Whether you want to relax, share a bottle of wine or just get a little luxury on your Valentine's Day escape, a dip in the hot tub will not disappoint.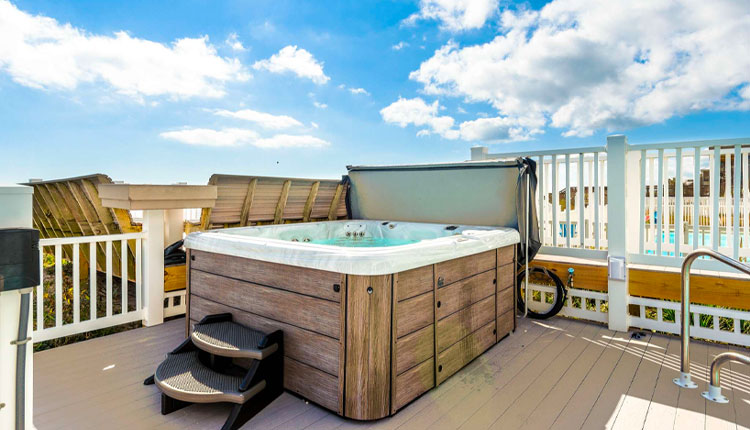 Final Day: "Sea" You Soon
Squeeze every second out of the long weekend and have breakfast together before heading home. This will be the perfect ending to your trip and will allow you to reminisce over your dreamy weekend together. You can also start planning all the other activities you couldn't fit in during this trip for your next visit to the Crystal Coast, whether it be with family or next year's Valentine's Day. If a long weekend isn't enough, maybe a week-long stay might be just what you need this Valentine's Day.
Save it for Later