Nothing sets the mood better than planning a beach getaway with you and your significant other. Add in breathtaking sunsets, gourmet restaurants and a wide selection of luxurious rental properties, and you have the makings for a very romantic vacation in Emerald Isle.
With Valentine's Day and President's Day right around the corner, now is the perfect time to start planning your Emerald Isle getaway. To help celebrate your Valentine, we are offering an exciting Romance Package drawing that you'll be automatically entered into when you book a reservation arriving between Feb. 14 and 21. The package includes a romantic dinner for two at Caribsea Restaurant, a bottle of champagne plus some sweet and savory treats!
Win or lose, all reservations made for that timeframe will receive 4 nights for 3 or 3 nights for 2 on us while celebrating in beautiful Emerald Isle and making this time of year that much more unforgettable. Check out some of our exclusive properties as well as some couple activities we'd recommend while you're here.

The Perfect Property
Whether it's a Valentine's getaway or just an escape with the family for President's Day weekend, there are a lot of factors and amenities to consider. From oceanfront cottages to quaint duplexes, from large kitchens to separate game rooms and even the need for an outdoor grill or hot tub, there is a plethora of properties that will satisfy any necessity without sacrificing privacy.
Another option is our selection of luxurious condominiums. These properties are often more affordable and provide stunning waterfront views. Staying at a condominium complex can also provide exclusive amenities like on-site fitness facilities and private beach access.
Whichever your preference, be sure to check out our availability and find the perfect rental for your time in paradise.

Beach Time
Part of the allure that the Crystal Coast provides is the pristine beaches and their ease of access. During the day, all you'll need is an umbrella and some chairs to set up a spot in the sand. Then you can take in the sights, relax with an ocean breeze and take the perfect selfie with the beautiful backdrop of the Atlantic Ocean.
As the day comes to an end, plan to take a stroll along the shore where you can catch a stunning Emerald Isle sunset. If you're a morning person, our sunrises are just as beautiful. Both of which you need to see for yourself as they are unlike any other.

Wellness Therapy
What better way to celebrate Valentine's Day or President's Day weekend than to enjoy an outing to one of Emerald Isle's many delicious restaurants. Whether you're looking for a three-course meal with drinks or something quick, there are options to accommodate everyone's taste in cuisine, including some of the freshest seafood in the country.
If you're looking to get that much-needed relaxation with your significant other, take a day trip to the spa and enjoy a couple's massage that will set you both at ease and release the tensions built up from the nine-to-five.
Retail Therapy
Nothing shows how much you care for your partner or family than picking up a gift or two for them while you're on vacation.
There are plenty of shops in town that take pride in the culture and small-town charm, from local boutiques to fine jewelry shops. If antiquing is more your style, take on Emerald Isle's selection of unique antique shops where you just may find that perfect treasure to take home.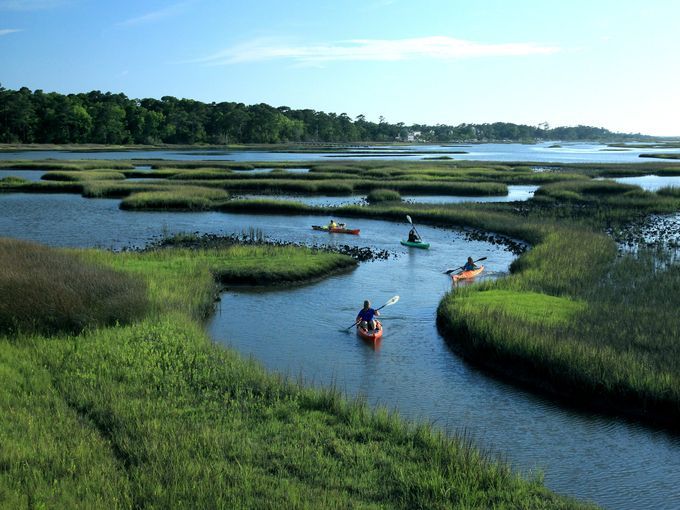 The Options are Endless
There's no shortage of fun and adventure whether you're vacationing with family or if it's just you and your partner. The important part is to get outside and enjoy everything that Emerald Isle has to offer.
Trails in Emerald Isle are also great areas to experience the wilderness and to get some fresh air. Rated from easy to moderate, trails in the Emerald Isle Woods, Hoop Pole Creek Nature Trail in Atlantic Beach and the Theodore Roosevelt Trail at the North Carolina Aquarium at Pine Knoll Shores are well built with minimal inclines and declines. The Aquarium also makes for a great date idea or a family visit with the little ones.
For more active visitors, there are plenty of waterways that are accessible by kayak that offer tranquil atmospheres and beautiful vistas. Biking is another way to experience Emerald Isle in a more up close and personal way. Emerald and Ocean Drive are scenic and have a lot of neat destinations along the way. If you're looking into renting a bike for your visit, check out bikes that have beach-friendly tires!
We also suggest making a day trip to some of our area attractions like Fort Macon State Park or Cape Lookout Lighthouse and National Seashore. Both of which offer amazing views and a look into the history of the Outer Banks.
Romantic Rendezvous
Along with an entry to win the Romance Package mentioned above, if you book to arrive between Feb. 14 and 21, you'll receive 4 nights for the prices of 3 or 3 nights for the price of 2. Don't let this deal pass you up and start planning your February vacation to Emerald Isle today!