As the seasons change, Emerald Isle, North Carolina, sheds its sizzling summer aura and ushers in delightful autumn days. This picturesque coastal town continues to beckon as an ideal destination for enjoyable family beach vacations, and now you and your kids can relish the top attractions with fewer crowds and comfortable weather.
Family getaways provide an exceptional opportunity to craft unforgettable experiences, and autumn presents the perfect moment to unwind following months of school and sports. Recharge your family's spirits and take a well-deserved breather. Allow us to kindle your inspiration for the upcoming getaway with these exciting activities and things to do with the kids during your fall break in Emerald Isle.
Have a sandcastle building contest on the beach.
When vacationing on the Crystal Coast, it's an absolute must to head to the beach. Emerald Isle's pristine shores offer you and your family an abundance of invigorating waves and glistening golden sands. Following some thrilling wave-catching and water fun, it's time to kick off a lively sandcastle building competition. Gather some buckets and shovels, let your creativity run wild, and see who can construct the most majestic sandcastle masterpiece that will stand as a testament to your unforgettable beach vacation.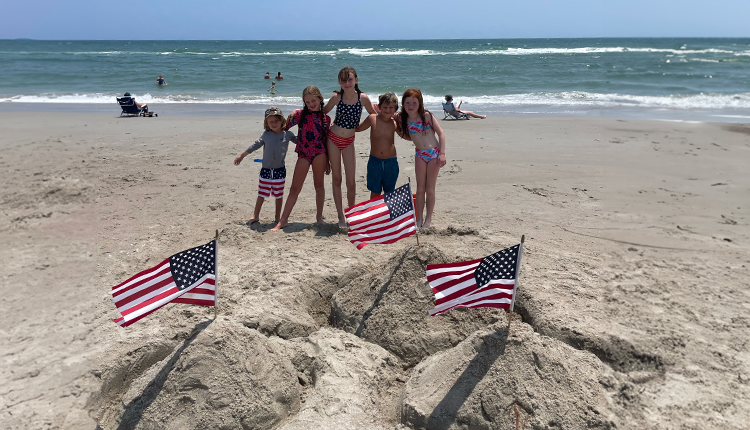 Whether you choose to sculpt with your hands or encourage your family to infuse their creations with seashells and sea oats, the artistic potential knows no bounds. From crafting Cinderella's majestic castle to constructing an imposing Orc Fort, let your imaginations soar. Don't forget to capture the magic by taking photos or even recording the building process—it's a cherished memory that you and your loved ones will treasure for years to come.
Play mini-golf and race go-karts.
If your family's competitive spirit is still strong after the sandcastle showdown, don't miss a visit to the Golfin' Dolphin. This entertainment destination is a crowd-pleaser among tourists and residents alike, and it proudly stands as the largest outdoor family park in Eastern North Carolina.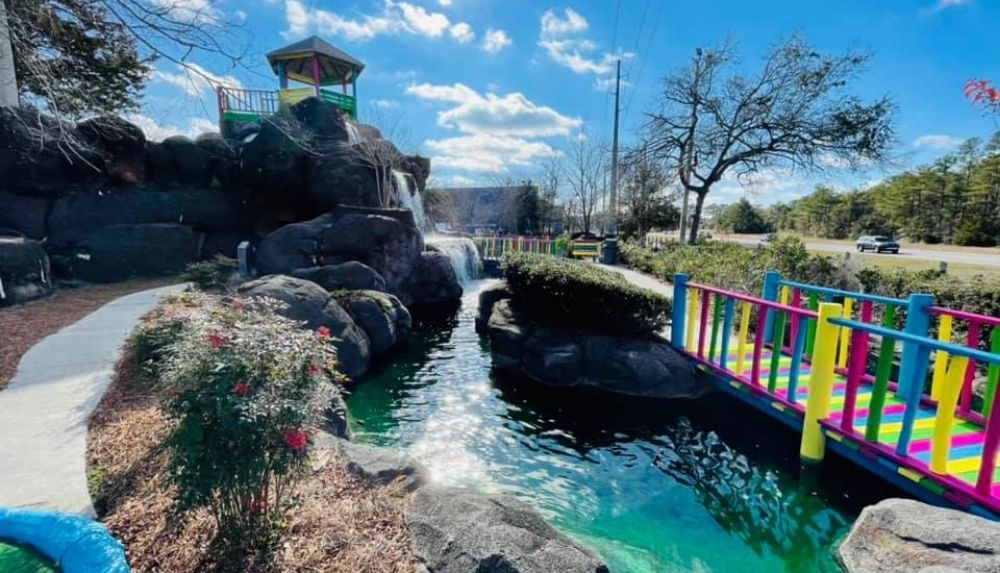 Divide into teams and embark on a thrilling mini-golf tournament, tackling the park's challenging 18-hole course. The Golfin' Dolphin truly lives up to its name, offering a unique adventure with each putt. As you navigate the course, your family will be treated to a medley of exhilarating challenges, from sandy traps and watery hazards to hidden caves, cascading waterfalls, and intricate multi-level skill shots. Regardless of who claims victory, the cherished moments spent with your family will be the ultimate prize.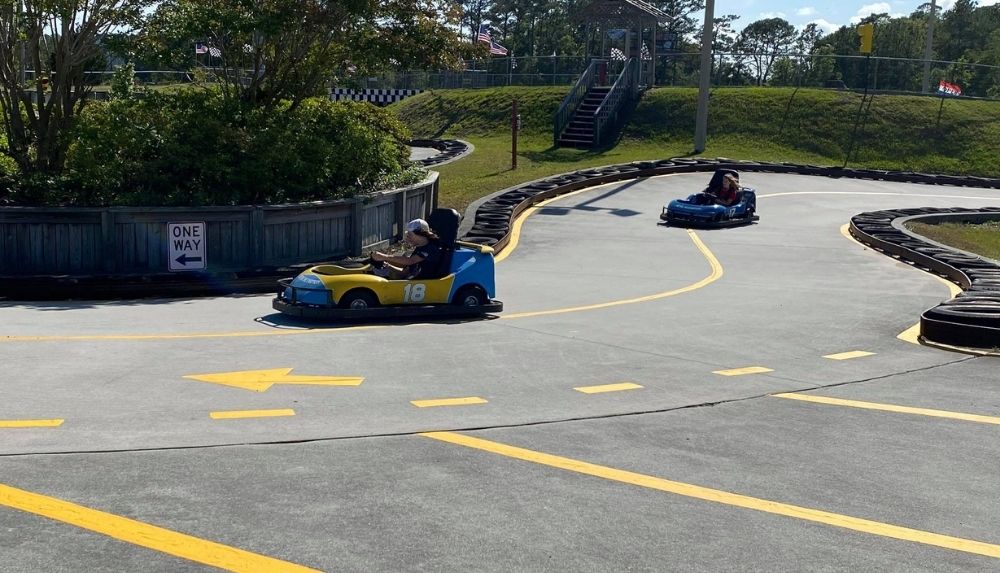 But the excitement doesn't stop here! Brace yourselves for an adrenaline-pumping go-kart race that will get your heart racing. Step on the gas and zoom around a track that would make any professional racecar driver proud. As your kids navigate this extensive course, they'll feel like champions racing for the gold. And for a dose of nostalgia, why not engage in a playful Water Wars skirmish? Divide into two teams stationed at different points, armed with giant water balloon launchers. The objective is simple: stay the driest to claim victory!
Hit the bowling lanes for some more friendly competition.
Conquering the golf course is sure to build up your appetite! If you're eager for another round of family fun, head over to Mac Daddy's Entertainment Center, where you can enjoy a tasty meal and showcase your bowling skills. This expansive 4,000 square-foot venue offers a variety of dining options and cold beverages. Best of all, it's conveniently situated adjacent to the Golfin' Dolphin, so you won't have to venture far for more entertainment.
Mac Daddy's boasts sixteen lanes for you and the family to show off your pin-dropping skills. This classic bowling setup is perfect for all ages and provides players with plenty of options for sitting down and enjoying a meal or cold beverage from the in-house bar and grill. There's even a VIP lounge for a private bowling experience.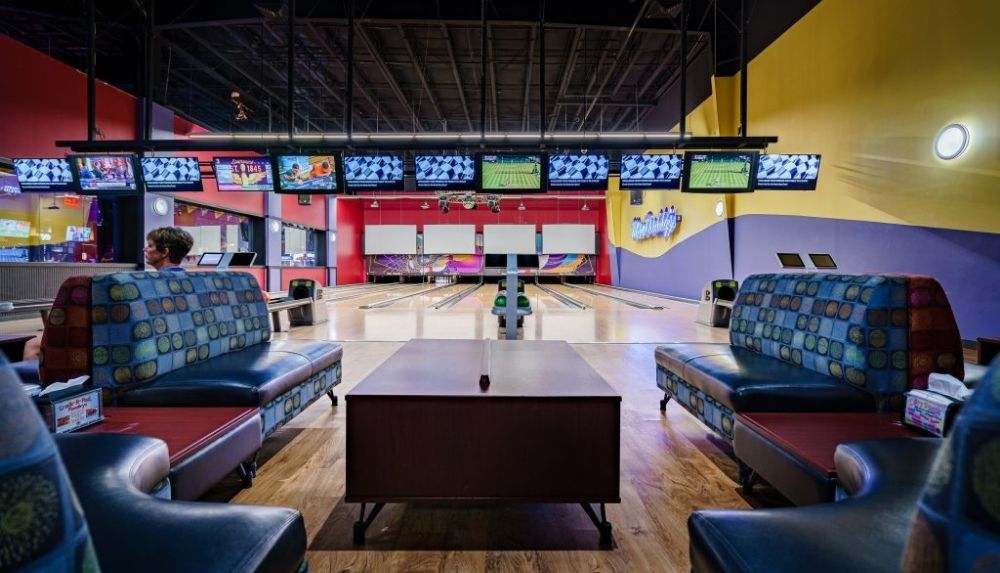 Once you've showcased your impressive bowling skills, it's time to explore the arcade. Mac Daddy's reigns supreme as the largest gaming haven on The Crystal Coast, boasting an extensive array of gaming options. From enduring classics like Space Invaders to contemporary hits like HALO, there's something for everyone in the family to enjoy and compete in. And before you bid farewell, be sure to capture a fun-filled moment with your loved ones in the photo booth for a memorable keepsake.
Go fishing or crabbing off the dock at your rental.
Many flock to Emerald Isle for a variety of reasons, but it's the exceptional fishing opportunities that keep enthusiasts coming back season after season. If you're seeking an extraordinary fishing experience, make sure to explore our soundfront rentals, where you can hook the big one right from the comfort of your vacation rental's own dock. Whether you opt to fish at the end of the pier or try your luck at kayak fishing, there are countless opportunities to snag a remarkable catch.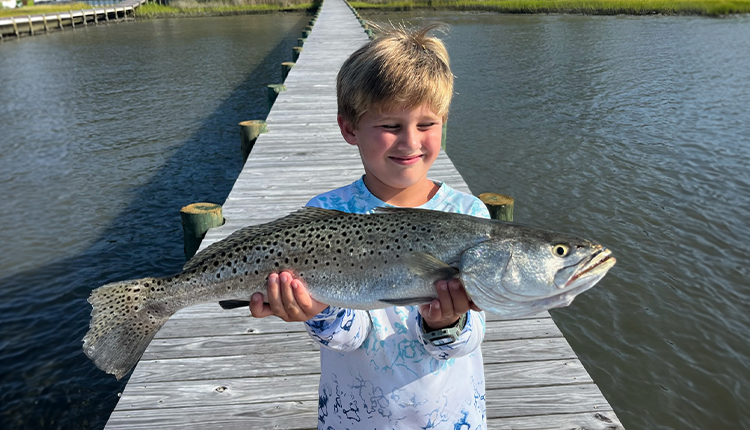 A soundfront setting offers a distinctive coastal adventure. If you're eager to add a new dimension to your fishing endeavors, try dropping a crab pot from your rental's private dock. Crabbing presents an enjoyable and rewarding challenge that you can undertake at any time of day and during nearly any season. For a delectable, freshly caught dinner straight from the sea, indulge in a bit of crabbing during your upcoming beach vacation.
Get up close with marine life at the aquarium.
Have you ever wanted to get a closer look at what lives under the sea? The North Carolina Aquarium at Pine Knoll Shores will bring you closer to aquatic life than you could ever imagine. From the vibrant fish on display and the popular baby alligators to eye-catching exhibits such as the Marsh Walk or Living Shipwreck, there's something to please everyone!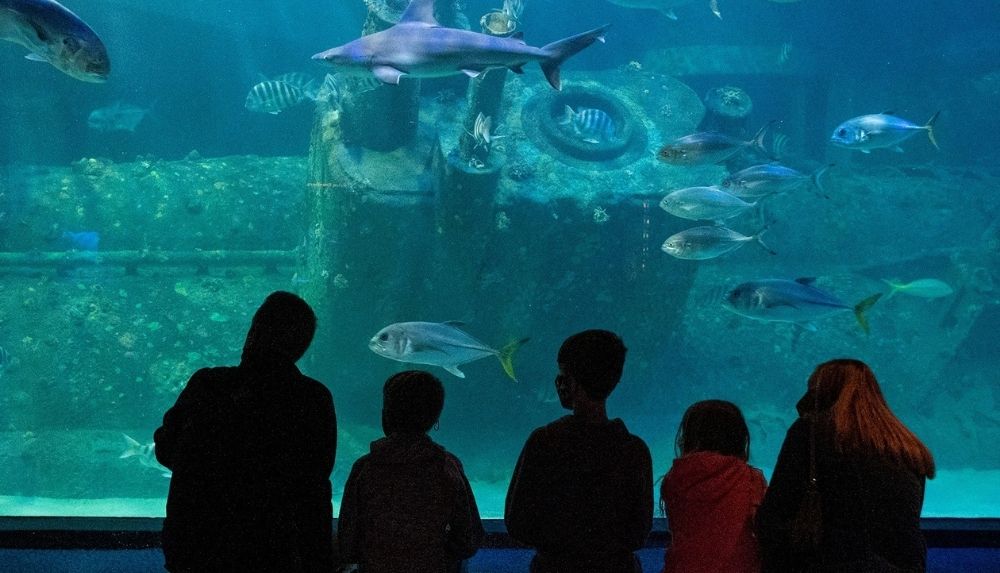 photo credit: @NCaquariumPKS
The aquarium also has guided tours, allowing visitors to go behind the scenes and see animal holding areas and labs, in addition to feeding the fish. For the brave ones in the family that want to experience something a little on the wild side, the aquarium provides you with the opportunity to touch a stingray. The North Carolina Aquarium offers plenty of fun things to do for kids of all ages. Almost everything at the aquarium is hands-on and at the perfect height for even younger ones to view!
Master your kickflip at the skatepark.
While surfing is a popular coastal activity for all ages, the fall weather creates the perfect climate for another outdoor favorite, skateboarding. Just down the road from Emerald Isle is the charming beach community of Atlantic Beach. A popular place for fun family entertainment is Atlantic Beach Town Park, which offers a dreamy ocean backdrop plus a putt-putt course, playground, basketball court and skatepark.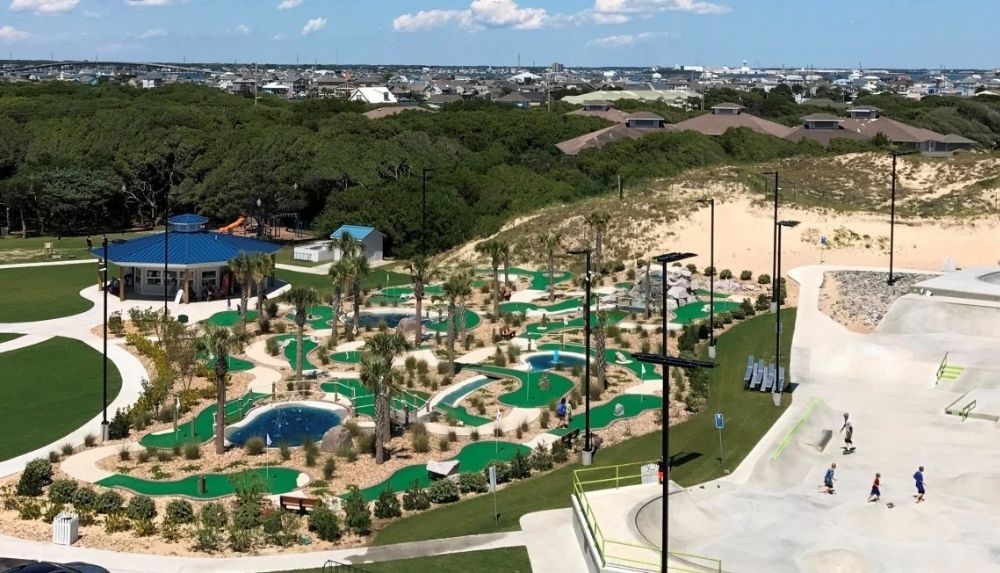 This popular attraction is free to the public and just so happens to be the largest of its kind on the Crystal Coast. The layout of the skate haven was designed for skaters of all skill levels. Your kids will enjoy the adrenaline rush as they drop into the bowl, ollie onto a rail and handplant on the halfpipe. It's the perfect spot for a budding skate enthusiast to master their kickflip or test out some new moves while visiting. The skatepark also features special hours for BMX riders who want to bring their bikes by to show off their skills.
Learn something new at the waterfowl museum.
While you and your family enjoy a well-deserved break from school, there's still plenty of room for learning something new. Make the most of your Emerald Isle visit by scheduling a trip to Harkers Island, where you can explore the Core Sound Waterfowl Museum & Heritage Center.
At the museum, you and your kids will be able to explore an array of exhibits focused on the communities of what the museum calls "Down East." These exhibits showcase a variety of memorabilia including duck decoys, publications, photographs, heirlooms and other priceless artifacts that help tell the story of the Outer Banks. Additionally, hands-on experiences, like decoy carving and quilting demonstrations, offer a way for everyone to enjoy the traditions of the coast.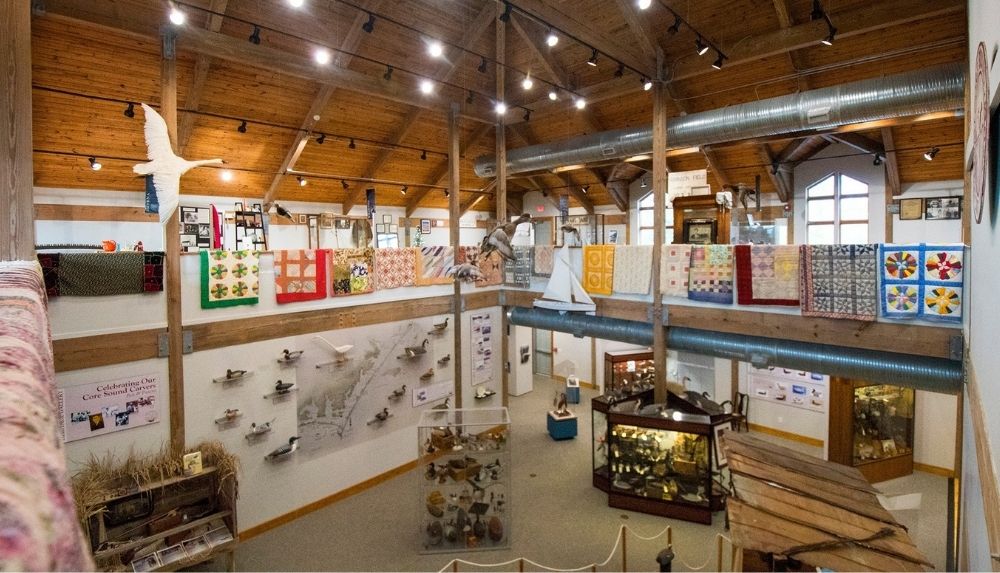 Once you've delved into the rich local culture, immerse yourself in the picturesque landscapes by embarking on a leisurely hike along Willow Pond Trail. The autumn weather sets the perfect atmosphere for this accessible trail, offering a chance to wander through a diverse range of paths and observe the coastal flora of the maritime forest. Be sure to bring along a pair of binoculars, as you might be fortunate enough to spot a variety of coastal birds, such as herons, egrets, or ibises.
Snap a family photo on the pier.
For a truly enchanting experience in Emerald Isle that will deepen your affection for the island, venture to the pinnacle of Bogue Inlet Pier. This coastal marvel has been captivating the hearts of both visitors and locals for generations, holding a special place in the hearts of many.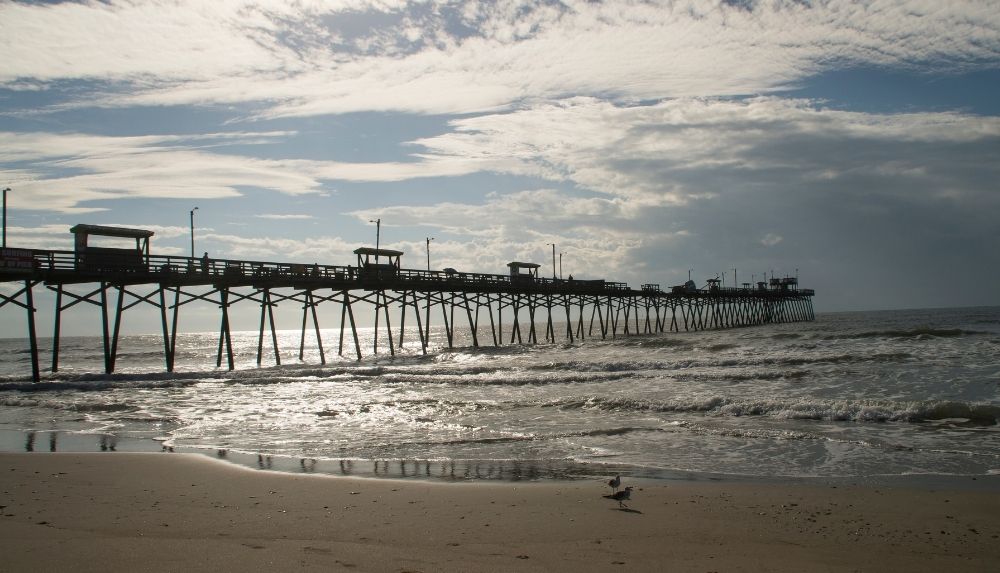 While it has garnered a well-deserved reputation as a premier fishing spot, it also offers exceptional opportunities for birdwatching and affords you a unique elevated perspective of Emerald Isle. From the pier, you can savor bird's-eye views of the shoreline that simply can't be matched anywhere else.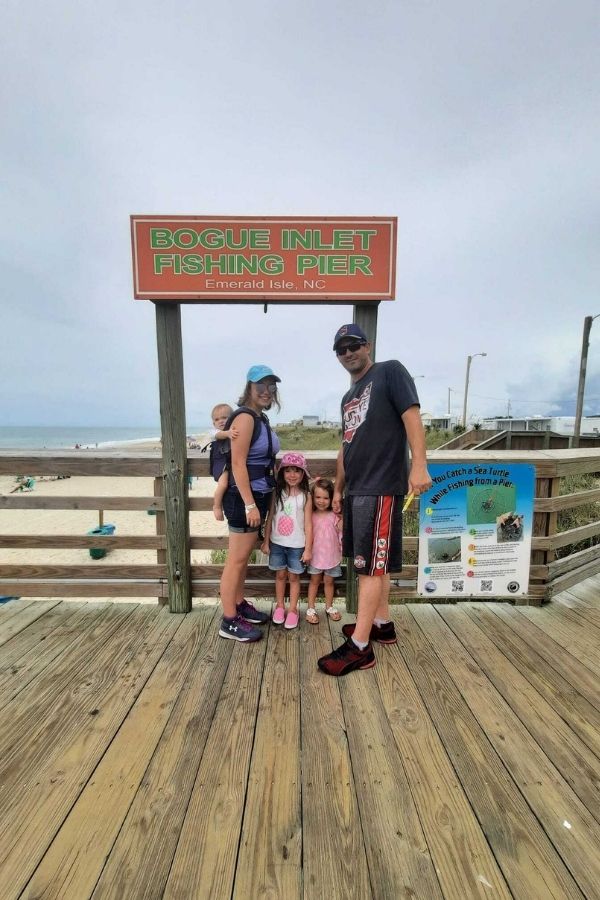 Plan an afternoon outing to the pier, and stay until the sun dips below the horizon, illuminating Emerald Isle in a magical moonlit glow. Remember to ask a friendly passerby to take a snapshot of you and your family either on or beneath the pier. You might be pleasantly surprised when that picture becomes a permanent fixture on your mantel, forever commemorating your visit.
As you begin to map out your family's autumn escape, don't forget to explore the enticing array of coastal properties offered by Emerald Isle Realty. Whether you're drawn to the allure of charming soundfront rentals or the indulgence of luxurious oceanfront cottages, you'll find a selection of over 700 vacation rentals boasting desirable amenities. Allow your kids the chance to rejuvenate their minds before returning to the classroom. Plan your Emerald Isle getaway today!
Save it for Later