The summer sun brings joy and laughter, but autumn brings a cooler vibe to Emerald Isle. The climate is still perfect for enjoying the pristine beaches and the charming waterfront towns are even more enjoyable now that there's fewer crowds and along with the changing of the seasons. North Carolina's Crystal Coast provides you with more than enough outdoor adventures, shopping and dining experiences perfect for a girls' getaway this fall! Pumpkin spice and everything nice, Emerald Isle Realty is here to help plan your gal's weekend with some insider inspiration, be sure to check out our charming vacation homes for your fall girls' getaway.
Day 1 – Start the Fun
After waking up and enjoying your morning latte or coffee, load up your beach bag and head down to Emerald Isle's pristine shoreline and spend the start of your day on the beach. The autumn air provides you and your friends with the perfect climate for enjoying the charming features of the coastline. Set up some chairs, enjoy swapping stories and catching up, and then take a relaxing walk along the shore.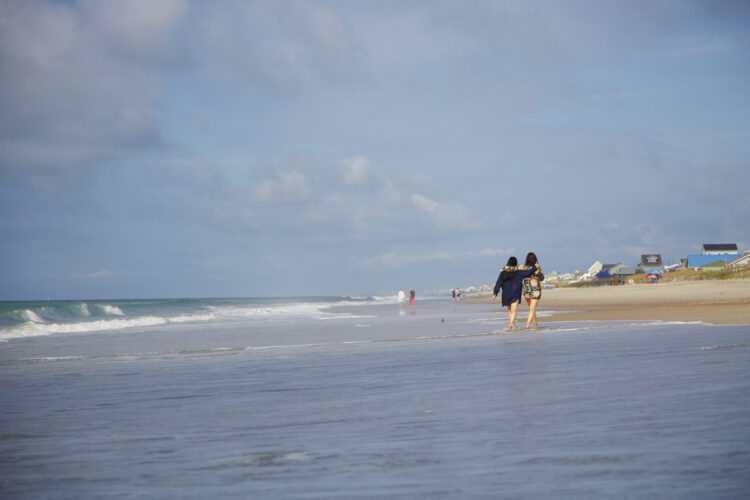 After spending a couple of hours by the water, take a quick drive to charming Beaufort and grab a delicious waterfront brunch at 34 Degrees North. Their fresh-catch menu boasts sweet classics like pancakes and fruit bowls, but be sure to indulge in their Beaufort Benedict! It's the chef's take on a classic dish, poached eggs sauced with hollandaise, paired with savory crab cakes and some southern grits. Also, be sure to cheers to "girl-time" with one of their specialty cocktails.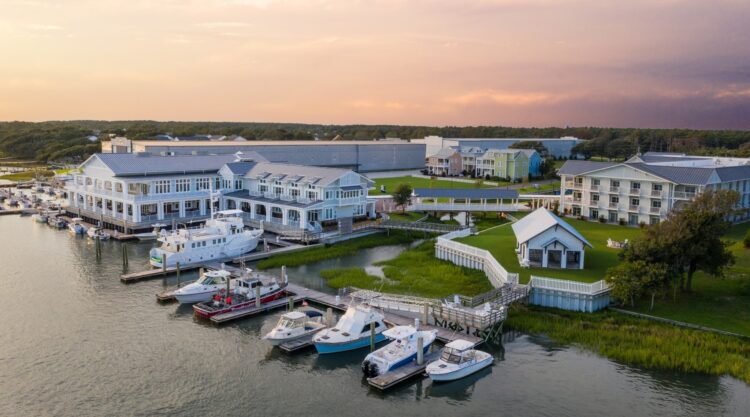 After brunch, make your way down to the waterfront in downtown Beaufort and take in the fantastic views of the harbor as you and your friends enjoy an afternoon stroll. After snapping off a few pictures, you can browse the quaint shops and cute boutiques throughout the area. Pick out some new pieces for your wardrobe and find a coastal gift for someone back home.
This coastal community happens to be the third-oldest town in North Carolina and is famous for its rich local history. While visiting, take a casual walking tour of Beaufort's Old Burying Ground. This attraction chronicles the town's more than 300-year history and gives insight into the area's history with pirates. You're sure to enjoy learning about Beaufort's cherished Native American past.
Finish off your exciting day with a fun and relaxing dinner at Clawson's Restaurant. This eatery has been around for more than 100 years and has an excellent selection of appetizers, burgers, and seafood. You and the girls will truly enjoy an evening winding down around a table at this cozy restaurant.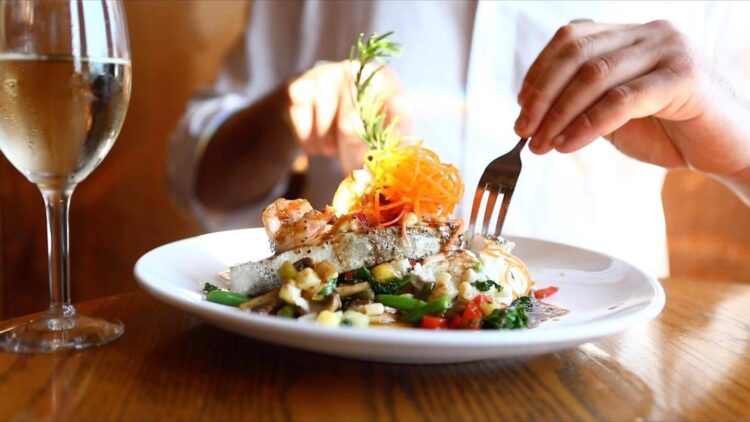 Day 2 – Enjoy Something New
For your next day in paradise, meet the girls on the deck and add some pep in your step. There's nothing like starting another day with a cup of freshly brewed coffee and a beautiful backdrop. Drink your morning beverage while enjoying the sunlight dance across the ocean while discussing the day's journey.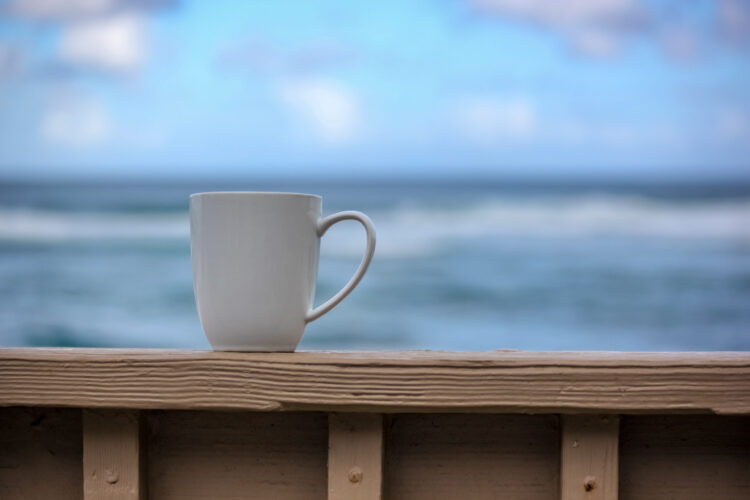 Once the pot is empty and you've knocked out the morning bagels, pack some lunches and have a picnic on the beaches at Fort Macon State Park. The site is a history and beach enthusiast's dream. This park allows visitors to explore the barracks, visit the armories, and even get an up-close look at an authentic cannon. But Fort Macon is more than just a museum. While this historic site boasts plenty of pavilions throughout the park that are ideal for a picnic, take advantage of more than a mile of shoreline and have lunch directly on the beach with your toes in the sand. After finishing your meal, walk it off with a refreshing stroll through the lapping waves.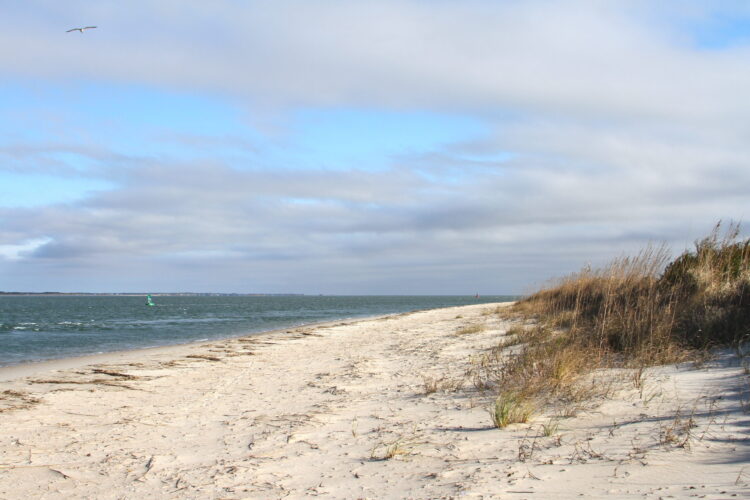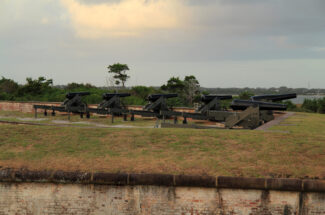 Bring the fun back to Emerald Isle and visit a local icon, the Bogue Inlet Pier. The popular walking and fishing spot is a legendary landmark for Emerald Isle vacationers as it provides second-to-none views and fantastic fishing conditions. Before heading home for the evening, you and the gals can take in an elevated view of the island and snap some vacation selfies at the end of the pier. You all can also try something new. Fall happens to be an excellent season for trout fishing, and if you didn't bring your reel, you can rent a rod at the Pier House. Either way, you and your friends will leave the pier with new memories and, just maybe, a fishing story.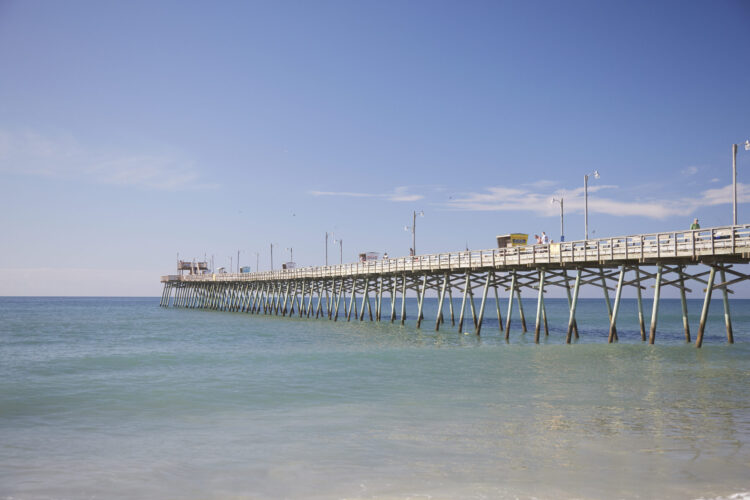 As the afternoon begins to transition into evening, it might be time to start thinking about dinner. One of the benefits of having a vacation home is the private kitchen! A well-equipped kitchen provides you with the perfect opportunity to cook a delightful coastal-inspired meal rather than spending another night in town. Whether you choose to dine at the inside table or take things outside to the deck, enjoy an evening with friends in the comfort of your own private vacation home!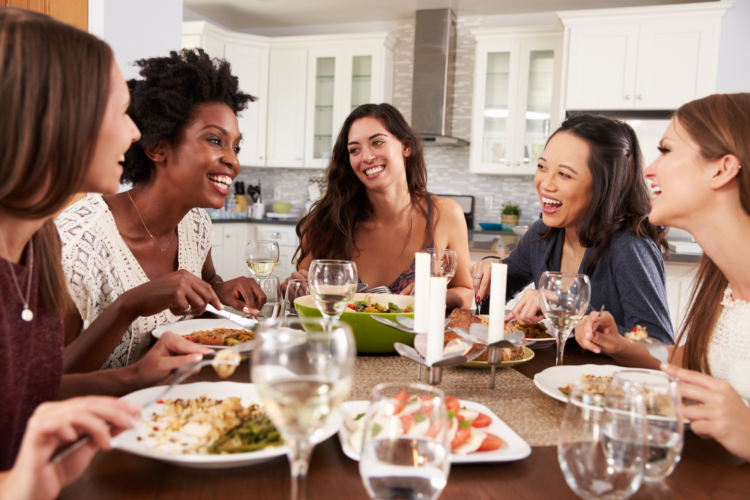 Your location to the ocean also provides you with a prime opportunity to pick up fresh seafood and ingredients needed for dinner. Be sure to make a stop at the Cap'n Willis Seafood Market, located on Emerald Drive right in the heart of Emerald Isle. This local favorite is an excellent spot for fresh fish, shrimp, crab cakes and anything desired for a meal to remember.
Day 3 – Feel Free by the Sea
It's the third day of your girl's trip on the Crystal Coast, so definitely head out to the beach! The cool autumn morning is the perfect way to feel refreshed going into what may be your final day of the trip. Increase those island vibes with a refreshing mimosa or Bloody Mary. There's nothing like toasting to the coast with your friends with a sweet cocktail.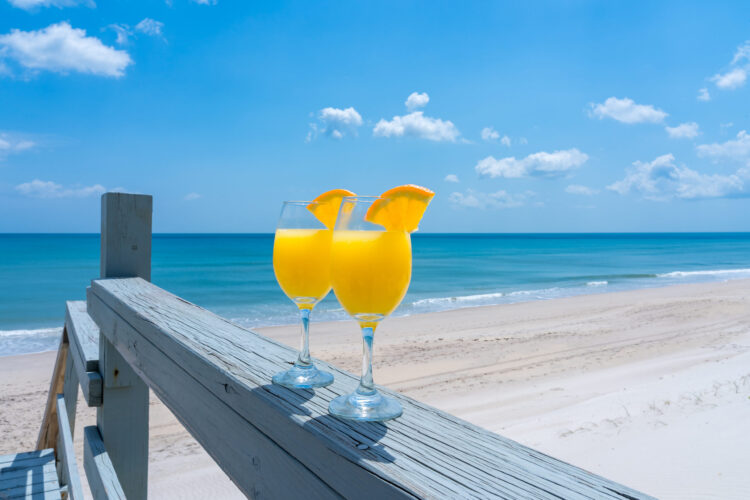 After kicking off the day on the beach, make your way to Morehead City's waterfront! This charming town stands out on the local shopping scene for its collection of antique and thrift stores that can't be found anywhere else on the coast. After picking up some antiques or new clothes, explore Morehead City's art scene. The community takes pride and is well known for its artful culture. You and the girls can explore this world with a self-guided stroll along the Fish Walk and the Promise Land Heritage Trail. Make sure your phone is charged, there's plenty of eye-catching pieces that you and your friends would love to post on social media.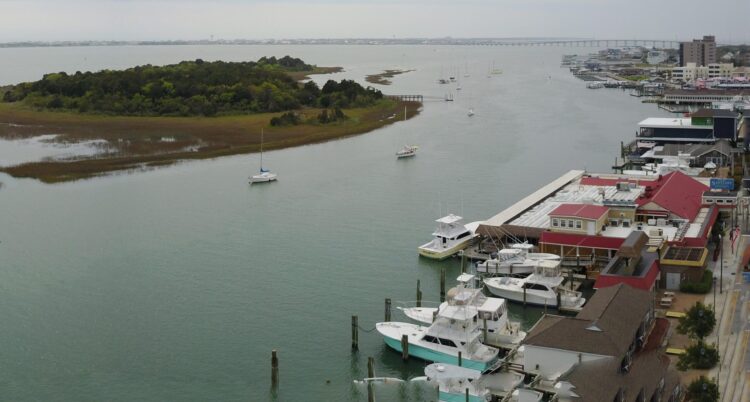 Tap into your creative side and toast to a good time with friends at Wine & Design. It's a fun way to create memories and vibrant masterpieces. Whether it's your first time or 10th, enjoy a glass of red or white wine as you splash color on the canvas. Don't worry, Wine & Design provides all the materials needed for the evening. Be sure to check their class schedule, you might need to bring along your favorite beverage!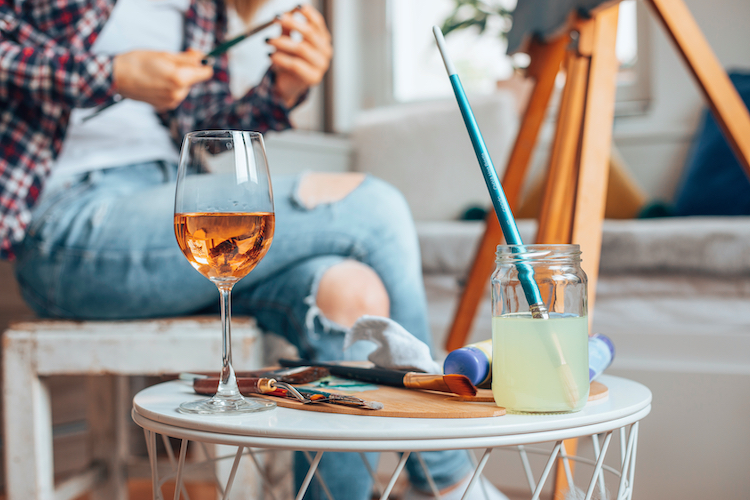 When you're done with your artistic venture, end the day back in Emerald Isle with a fine dining experience at Caribsea. Sit back and enjoy cold drinks and delectable dishes as you and your friends laugh and think back on all your new experiences. Caribsea's dinner menu boasts your favorites from the surf and turf like fresh baked oysters, shrimp scampi or a savory bone-rib eye!
After indulging in your delicious meal, head up to the Torpedo Lounge. The restaurant's rooftop bar provides you with an exceptional setting for admiring the sunset on the island as you sip on one of their specialty cocktails. With live music and good company, it's the perfect way to end your fall island getaway with the girls.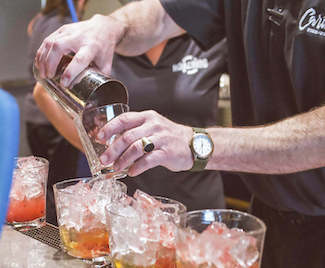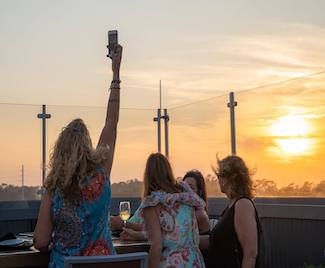 Time to Get With the Girls
From time on the beach to adventures throughout the Crystal Coast towns, there are plenty of activities to experience and places to eat during your fall girls' getaway. Book your next trip with Emerald Isle Realty and explore more than 700 vacation rentals to find the perfect home for your next escape with the ladies. With fall quickly approaching it's the perfect time to lock in your spot, so start planning today!
Save it for Later