For those that don't mind a little drive, the beautiful and secluded beaches of Emerald Isle, North Carolina offer the perfect setting for relaxing weekend getaways from Raleigh. Located about a three-hour drive from Raleigh-Durham/Chapel Hill down I-40 East is Emerald Isle, one of several quaint beach communities that make up North Carolina's Crystal Coast.
During these unprecedented times, staying safe on vacation is important and Emerald Isle Realty understands and respects this. Staying at your own private vacation rental is one of the best ways to stay as safe as you would be in the comforts of your own home. Learn more about the additional safety measures and cleaning protocols that have been put in place to ensure that you and your loved ones are able to have a safe and memorable vacation. And here is a list of ways you and your family can practice 'coastal distancing' during your stay in Emerald Isle.
If you are ready to get away from the hustle and bustle of the city, make plans to spend your next weekend getaway from Raleigh in Emerald Isle and enjoy unwinding with your family and friends.
Enjoy off season on the Outer Banks
Nothing is more peaceful and serene than the transition from summer to fall along the coast. The days begin to get shorter and the low humidity and ever so gradual decline in temperatures means that fall is just around the corner.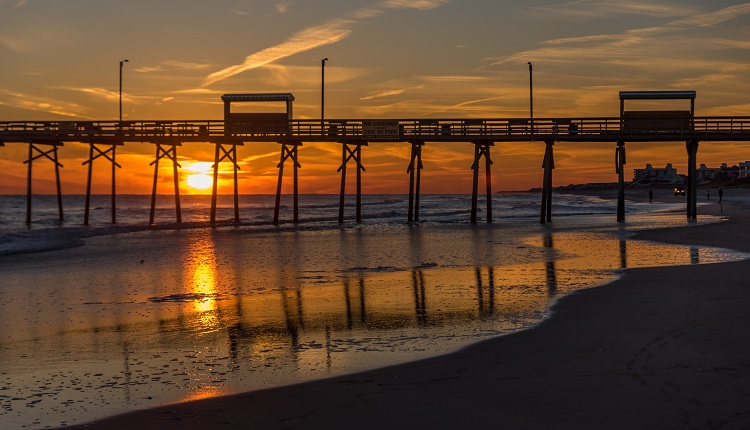 At the same time, families are just wrapping up their annual summer trips to the coast leaving the beaches more open and quieter. The off season on the southern Outer Banks is one of the best times of the year to enjoy a weekend getaway to Emerald Isle.
Relax and spend time on the beach
The tranquil beaches of Emerald Isle offer the perfect backdrop for a short weekend trip from Raleigh. From morning to night, you will find plenty of ways to get out and enjoy some time on the beach.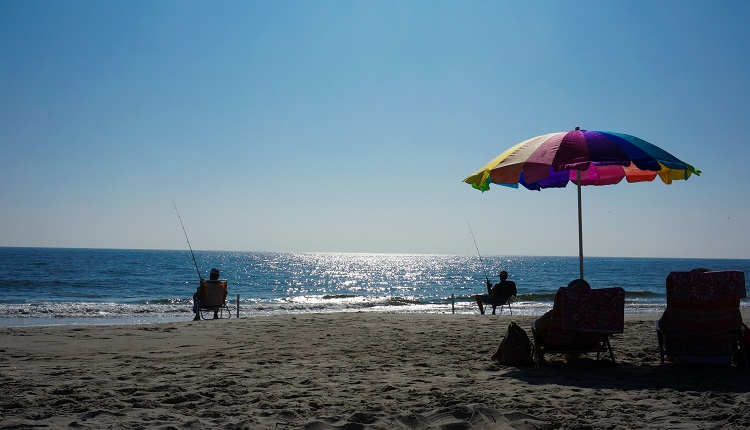 For those early morning risers, a jog on the beach with the smell of the salty ocean air and the cool ocean breezes is the perfect way to start a day. Spend an afternoon just relaxing on the beaches in Emerald Isle, listening to the sounds of the crashing waves and soaking up the heat from the sun as it slowly warms the shores. Or choose from a countless number of fun outdoor activities during your stay such as surfing, fishing or shelling.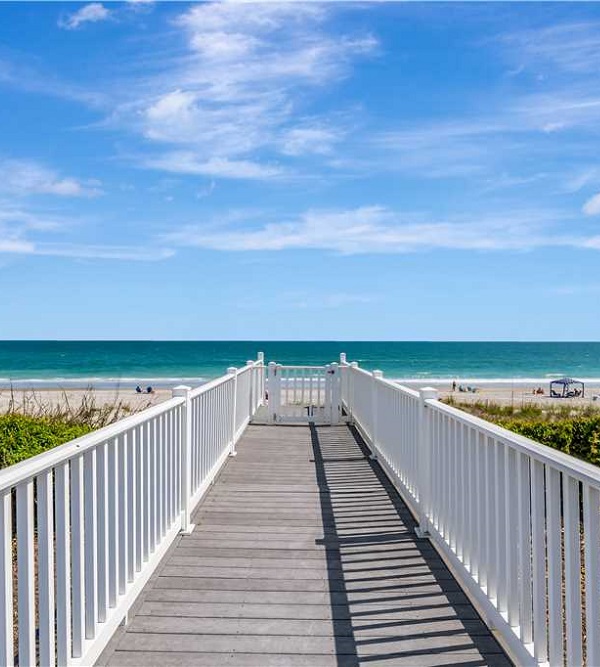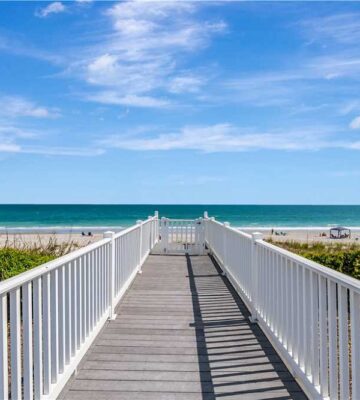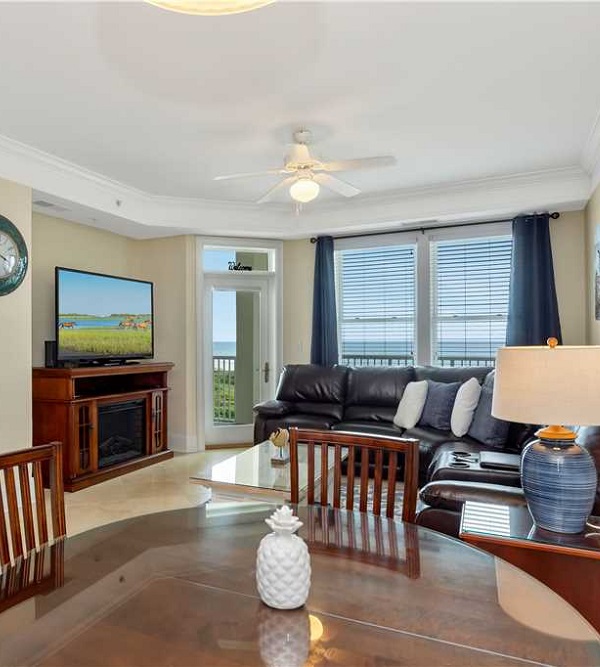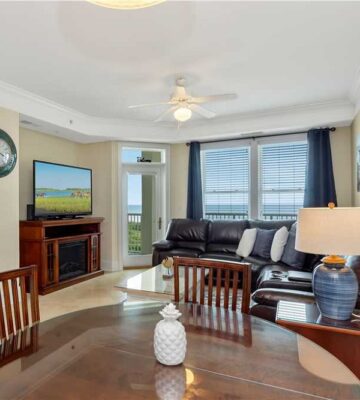 Serenity Shores (left) and Grande Villas 4-C (right), oceanfront rentals in Emerald Isle
The undisturbed beaches are just steps away from our oceanfront rentals in Emerald Isle. From Classic Carolina beach cottages to the most luxurious Sand Castle homes, enjoy gorgeous ocean views, spacious rooms, gourmet kitchens and plenty of other coveted amenities that will make you feel right at home.
Learn to paddle board on Bogue Sound
The nice shallow and calm waters of Bogue Sound make it the perfect place to enjoy an array of fun outdoor activities. Plan your stay in one of our soundfront rentals in Emerald Isle and you will experience Bogue Sound as your backyard, which means that all the fun is just steps away.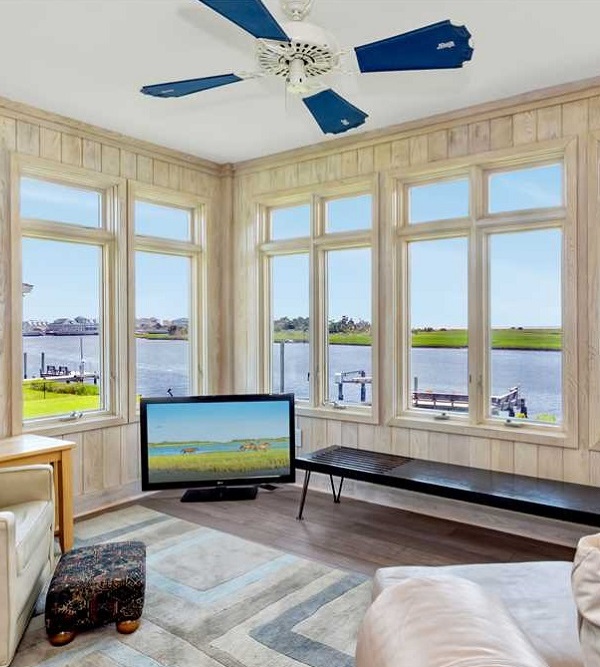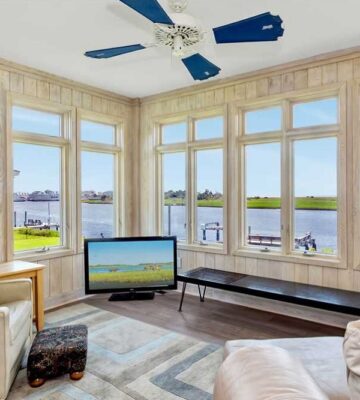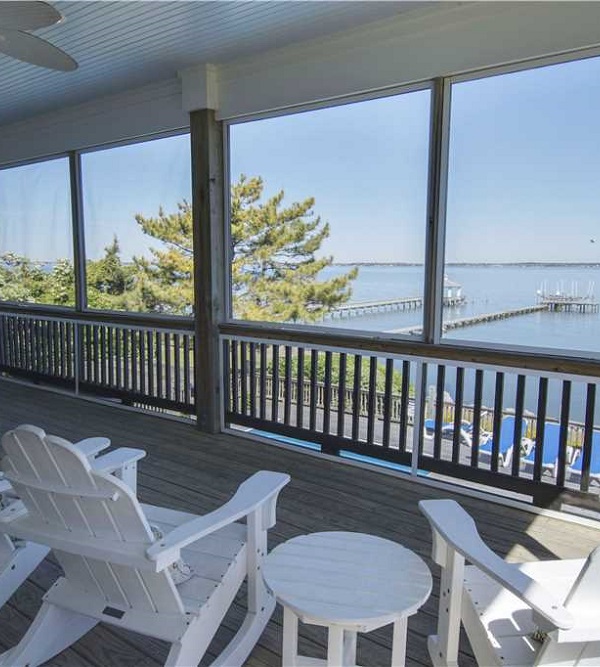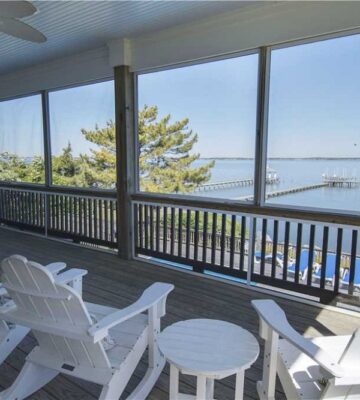 Big Kahuna (left) and Boat House (right), soundfront vacation rentals in Emerald Isle
Bogue Sound stretches for nearly 25 miles along the Crystal Coast, from Atlantic Beach to Emerald Isle. And with its widest point being only about 3 miles wide, Bogue Sound is a saltwater playground, offering plenty of wide-open space for vacationers to enjoy a myriad of activities.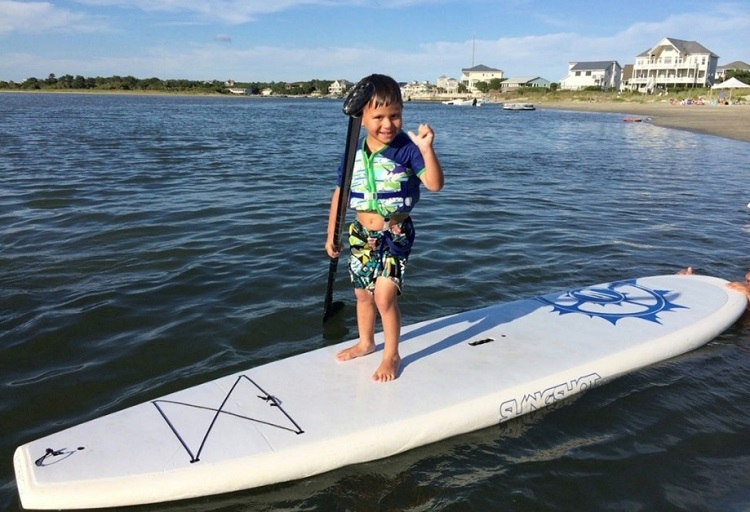 If you have never tried paddle boarding, there is no better time than now. Paddle your way through the marshes and estuaries of Bogue Sound on a guided tour with Emerald Isle Paddle Tours. This fun outdoor experience will take you along to view some of the wildlife species that abound along the coast. No experience is necessary.
Grill up some fresh local seafood
Nothing is better after a day at the beach, than to head back to your vacation rental to fire up the grill. Choose from several Emerald Isle Realty vacation rentals with gas or charcoal grills, or even find a home that has a full outdoor cooking area.
Whale Inn (left) and Bogue Banker (right), vacation rentals with outdoor patios and grills
Are you wondering how to best keep your vacation rental's fridge stocked with all the items you need to prepare a delicious dinner? Grocery service is the answer. Lowes Foods offers an online service that makes grocery shopping as easy as possible. Simply place your order online and decide whether you will pick your items up curbside at the store or have them delivered directly to your vacation rental's doorstep.
Stop at one of the local farmers' markets in the area to stock up on fresh, locally grown foods. The Cap'n Willis Seafood Market, located in Emerald Isle, offers a great selection of local seafood, fresh off the boats.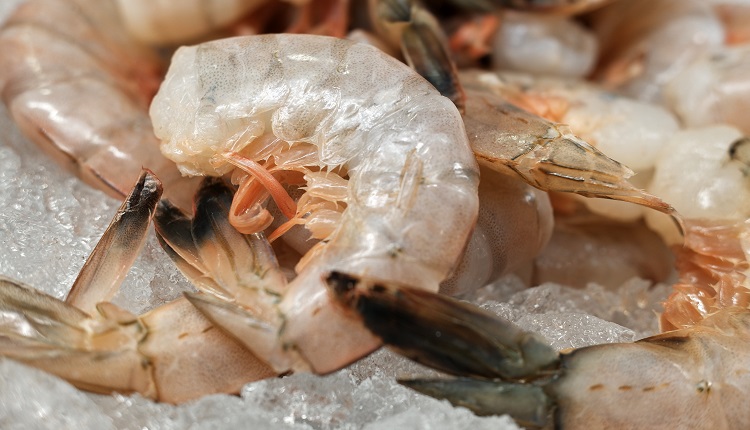 The nearby Cedar Point community is home to Winberry Farm, known for its famous Bogue Sound watermelons and other locally grown fresh produce and baked goods. And just down the road is the Cedar Point Salty Air Open Market, an open outdoor market with everything from fresh local produce and pork to eggs and dairy products, in addition to handcrafted wares sold by local artisans and crafters.
The Friendly Market in Morehead City is another great option and only a short drive from Emerald Isle. Here you'll find fresh produce, in addition to fresh foods made and packaged daily from the kitchen such as homemade chicken salad and shrimp scampi dip.
Explore nature on an outdoor hike
North Carolina's Crystal Coast is home to a variety of habitats and ecosystems perfect for exploring and enjoying the beauty of nature. Go for a hike in the Croatan National Forest with its 160,000 acres of beautiful views and coastal scenery found just 10 miles south of New Bern. Two of the most popular trails are the Neusiok Trail and the Patsy Pond Trail. Nature lovers will delight in the plentiful opportunities for birdwatching in this area, with several sites being part of the NC Birding Trail.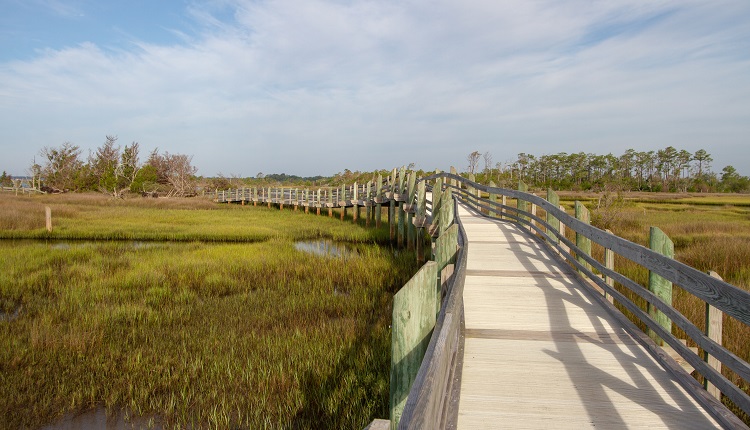 Emerald Isle Woods Park is another great option with boardwalk access directly to Bogue Sound and a birding trail. Pack a picnic lunch to enjoy in the park. There's also a disc golf course that meanders through the maritime forest and ends near the Bogue Sound shoreline.
Or take the family on a hike along the Roosevelt Nature Trail, located adjacent to the NC Aquarium in Pine Knoll Shores. The 1.5-mile-long trail offers scenic views of the maritime forest and Bogue Sound and is home to an assortment of birds and wildlife. The Crystal Coast has plenty of opportunities to experience the great outdoors.
Cool off with a dip in your own private pool
Plan your stay in one of our vacation rentals with pools and enjoy spending time at the beach or just take in those beautiful ocean views from your own private pool. Spend an afternoon lounging on the patio, listening to the kids splashing in the pool, and enjoying some quality time with family or friends.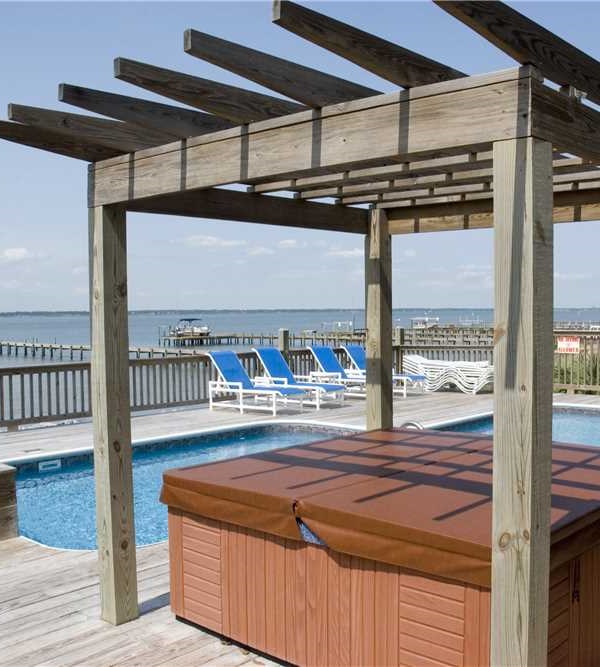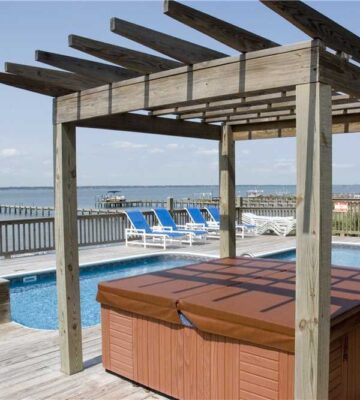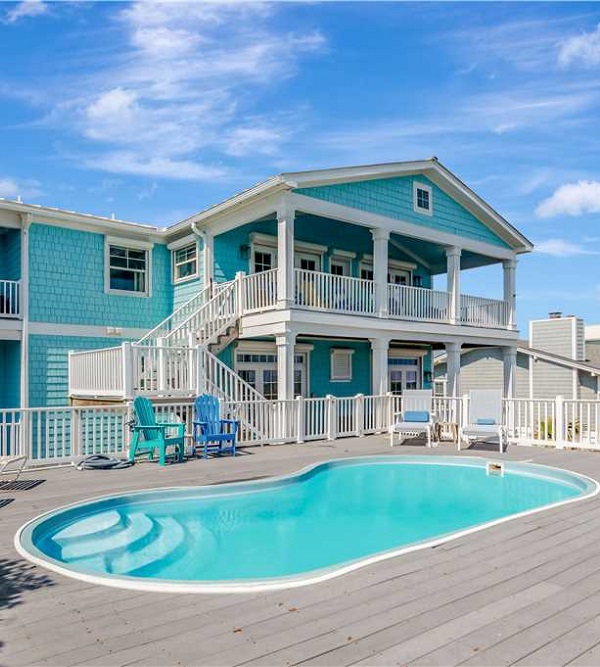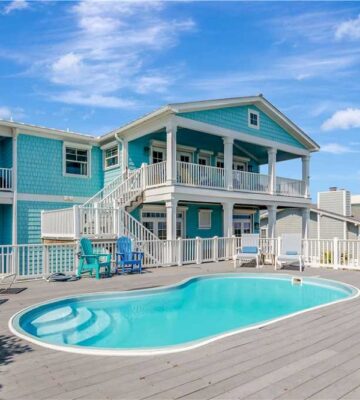 Serenity Shores (left) and Boat House (right), vacation rentals with pools and hot tubs
As the fall season progresses and the weather begins to cool, many of the vacation rentals with pools also have heated options. Or opt for a vacation rental with a hot tub and enjoy a nice warm soak and a glass of wine after a fun-filled day of activities.
Enjoy your favorite coastal cuisine at home
Enjoy unique dining experiences at restaurants in Emerald Isle and the surrounding beach communities. From fresh seafood to mouthwatering barbeque, there's something for everyone here.
Start with breakfast at Yana's Restaurant, located in the Yana Mama's 50's Memorabilia Shoppe, across the bridge in Swansboro. This 50's themed restaurant serves delicious breakfast featuring American fare, and their fruit fritters are a must-eat.
Enjoy an excellent lunch at Rucker Johns, located in the Emerald Plantation Shopping Center. Try one of their juicy burgers or enjoy a specialty sandwich.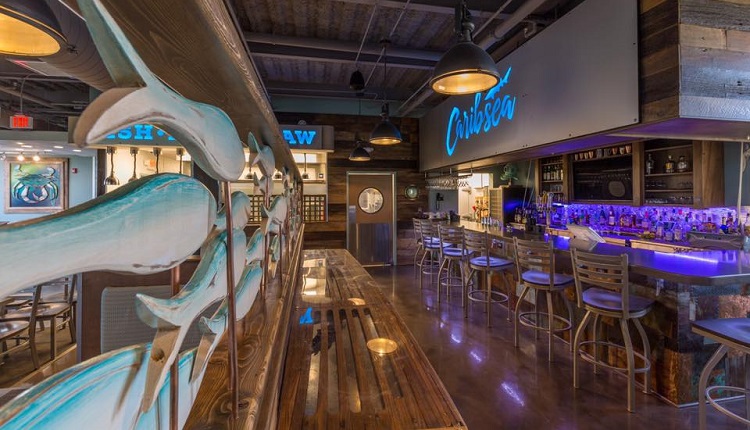 For dinner, you can't go wrong with Caribsea. From exceptional steaks to delicious fresh local seafood to signature cocktails, this waterfront restaurant is a favorite amongst visitors and locals alike. And the rooftop is a great place to catch a sunset.
Just make sure to call ahead before heading out for your meal. If you prefer to dine out on the deck at your vacation home, many of the area restaurants have take-out and delivery options.
Bike to The Point to watch a sunset
Amazing panoramic views are synonymous with Emerald Isle. From views of the Atlantic Ocean as the sun begins to rise in the morning to some of the most incredible sunsets over Bogue Sound at night, each one somehow more breathtaking than the last.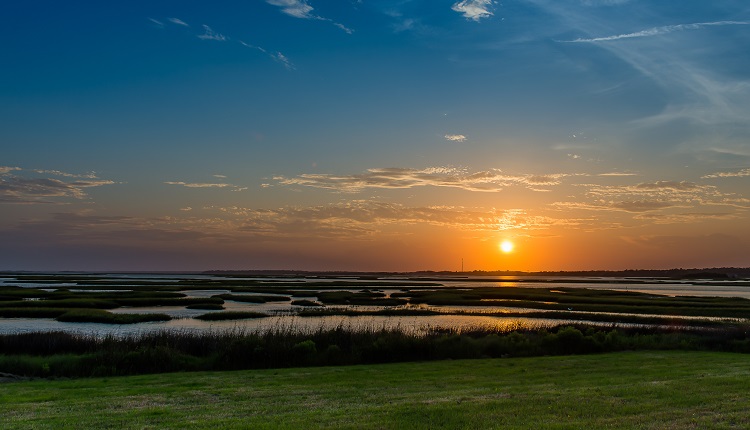 The Point in Emerald Isle is considered one of the best beaches and a favorite of locals and visitors alike. Located at Bogue Inlet, on the farthest western side of Emerald Isle where the coast tapers off, The Point is known for its great fishing and surfing, but most of all, the incredible unobstructed views of the water. It is also a great place to do a little shelling and there is a good chance you may spot a few dolphins frolicking in the coastal waters.
The area is home to the Coast Guard Station and near the bike path on Coast Guard Road. The Emerald Path is an 11-mile pathway that stretches from the small town of Indian Beach all the way to The Point. Following County Road 58, the path winds through grassy areas and woodlands, right into downtown Emerald Isle where you'll find a variety of shopping and dining options.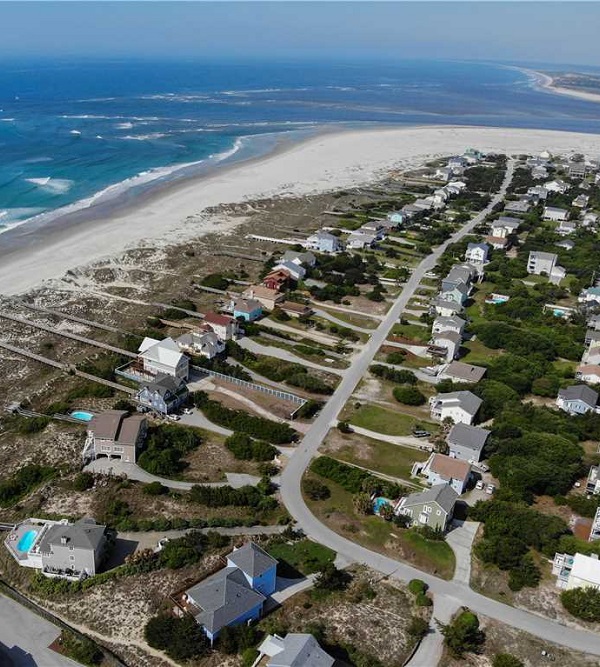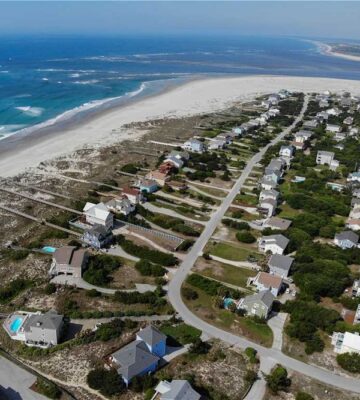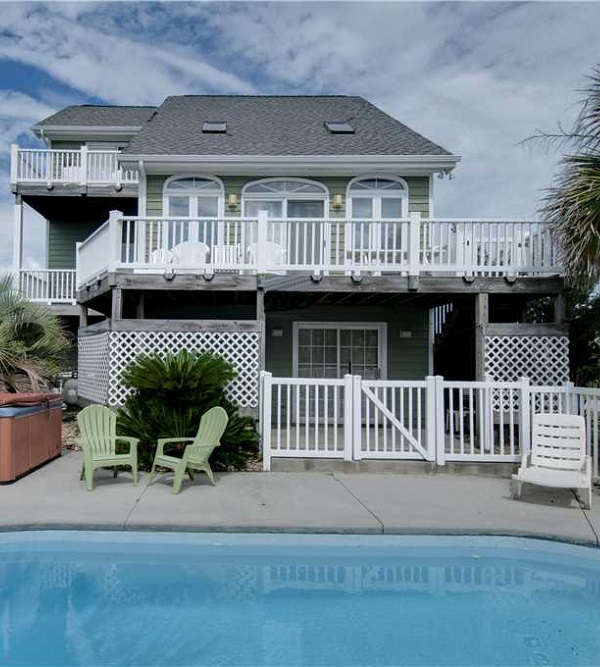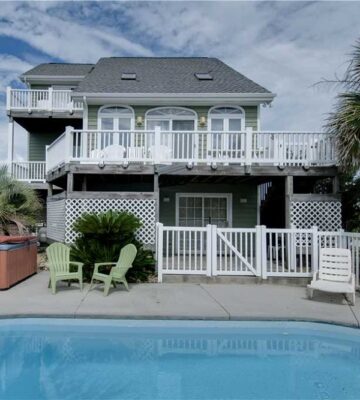 By The Point, vacation rental in Emerald Isle near The Point
A late afternoon bike ride down Emerald Path is a great way to get outdoors, do some exploring, and get a little exercise at the same time. There are plenty of places that offer bike rentals nearby and the magnificent sunset views that await along the coast are definitely worth the time spent.
Save with weekend getaway deals on vacation rentals
Ready to start planning that weekend getaway? Spur of the moment getaways to Emerald Isle are exciting, relaxing and great for the soul. And with peak season being over, vacation rental prices also decline during this time of year. Check out our list of vacation rentals offering last minute specials, as well as off season vacation rentals with discounted rates.
Work remotely from your vacation home on an extended stay
Who says all work and no play is necessarily a bad thing, that is, if you are doing it on the beach! Vacation rentals offer the perfect solution for mixing business with pleasure, especially during the fall, winter and spring months.
Almost all of Emerald Isle Realty's vacation homes offer wireless high-speed Internet and with plenty of spacious rooms and balconies, you can easily change up your working environment. And with tons of great amenities to choose from, learning and working remotely from a vacation home definitely has its advantages.
Emerald Isle Realty offers a variety of vacation rentals ranging from oceanfront cottages to duplexes to condos. You are sure to find the perfect rental to fit both your needs and budget, any time of year. To top that off, our monthly rentals can be reserved at significantly reduced rates. So now what are you waiting for?
With so many options and reasons to visit, Emerald Isle is the perfect place to do as little or as much as you would like for your weekend getaway from Raleigh. From sparsely crowded beaches where you can enjoy shelling and maybe even find a shark tooth or two, to viewing some of the most stunning sunsets of any area along the North Carolina coast, it's the perfect place to relax and unwind.
The beach, sun and fun are just a short drive away, so start planning your beach weekend getaway from Raleigh-Durham/Chapel Hill to Emerald Isle today!
Save it for Later