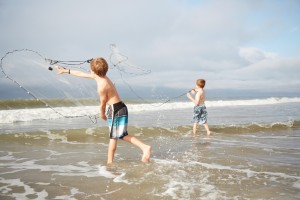 With summer over and fall in full bloom the Crystal Coast is turning into a hotspot for anglers. As water temperatures cool down the fishing will heat up with migratory patterns for many types of fish becoming more active in the area. Some of the most sought after fish in the area range from spot fish, red drum and flounder. Other fish that frequent the waters of Emerald Isle include king mackerel, bluefish, snapper and grouper fish. There are many different outlets of fishing to experience while out on the Crystal Coast and serve all skill levels.
Find a monthly break down of what fish are running in the area, fishing off the Bogue Fishing Pier, beach access for shore fishing and fishing license info here.
Charter Fishing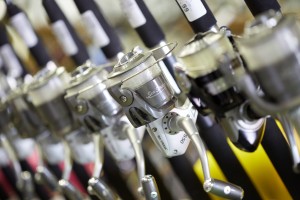 There are plenty of charters to choose from on the Crystal Coast, and these experienced fishing captains will show you the ropes and take you to their prime fishing spots. These charters can handle a variety of group sizes with various skill levels. Experience different types of fishing including  sight fishing in shallow water, ocean reef fishing, deep sea trolling, bottom fishing and evening fishing to name a few.
Pier Fishing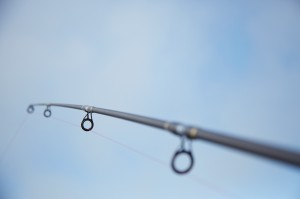 The Bogue Inlet Fishing Pier is a great place to unwind and relax with family or on your own while still getting your line wet along with some possible bites. With the purchase of a day pass visitors can enjoy casting from a top the pier with a pier house available for snacks, drinks, bait and fishing necessities. Fish that frequent the pier include wahoo and king mackerel.
Surf Fishing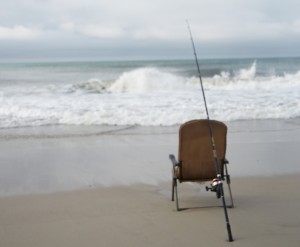 Catch yourself some flounder, pompano, blue fish, salt water trout and even sharks when you try your luck at surf fishing on the beaches of Emerald Isle. Really get your feet wet as you cast out your line and play nature's waiting game. You are going to want to read the surf and analyze the incoming Emerald Isle tides. Here's a casting tip, cast your line anywhere you see birds hovering, you're sure to catch a big one. Surf fishing is perfect for individuals searching for solitude or groups looking for a fun activity. It is also a great way to give fishing lessons to beginners.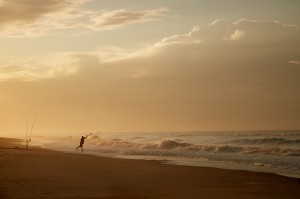 Before casting your line, remember you'll need to have your Coastal Recreational Fishing License (CRFL). Licenses can be purchased from the North Carolina Wildlife Resources Commission. Be sure and select the appropriate license based on your fishing frequency. Options include lifetime, annual or 10-day licenses, each with different fees for state residents and nonresidents.
Turn your fishing trip into a vacation and stay at one of our beach house rentals with your family or group of friends.  Whatever your fishing preference is, you can be sure that Emerald Isle can accommodate.