Sometimes there is nothing better than some quality time with your girls. No stress, no men, no worries in the world. A girl's getaway in Emerald Isle, North Carolina is all about taking a break from reality to spend time with your favorite ladies. Amongst the wine tastings, local tours and excursions, the beach and shopping, Emerald Isle Realty has all the necessities for the perfect girls retreat.
Make time for a little retail therapy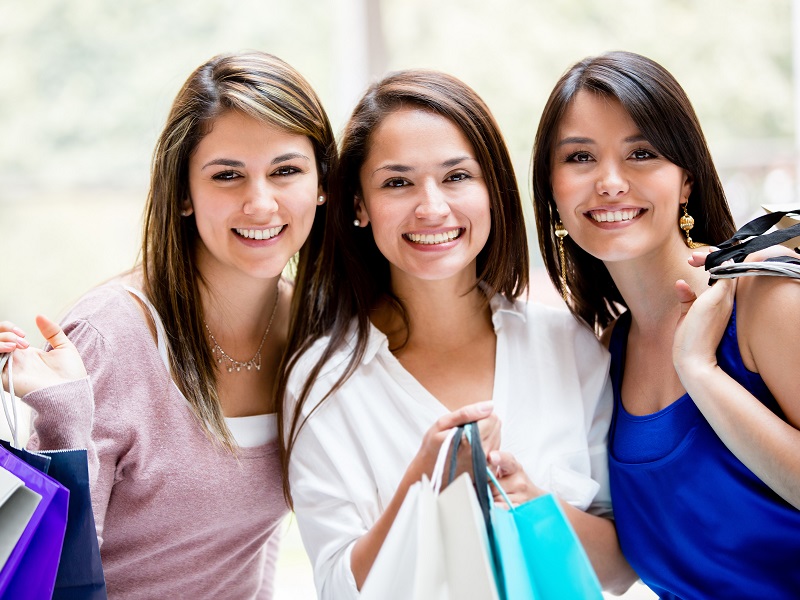 Shop until you drop during a day of wandering around the many shops that Emerald Isle has to offer. With a wide variety of locally owned businesses and shopping centers, there is no shortage of retail therapy for you and your girls.
In Emerald Isle, you'll find a variety of specialty stores and gift shops that offer jewelry, beach gear, clothing, art and more. The southern Outer Banks is known for its charming boutiques with plenty of unique women's clothing and accessories. Just over the bridge from Emerald Isle, is Cedar Point where you can pay the quaint boutique, Swan Feathers, a visit for an evening dinner outfit. Minutes away from Cedar Point, Swansboro, NC provides the perfect stop for a girls shopping excursion with a variety of shopping centers and stores.
Beaufort, NC, also known as "America's Coolest Small Town," by Budget Travel Magazine, is another great gem for retail therapy that you and your ladies will enjoy. You definitely won't leave empty handed without a gift or souvenir to take home.
Tour the beach towns that inspired best-selling romance novels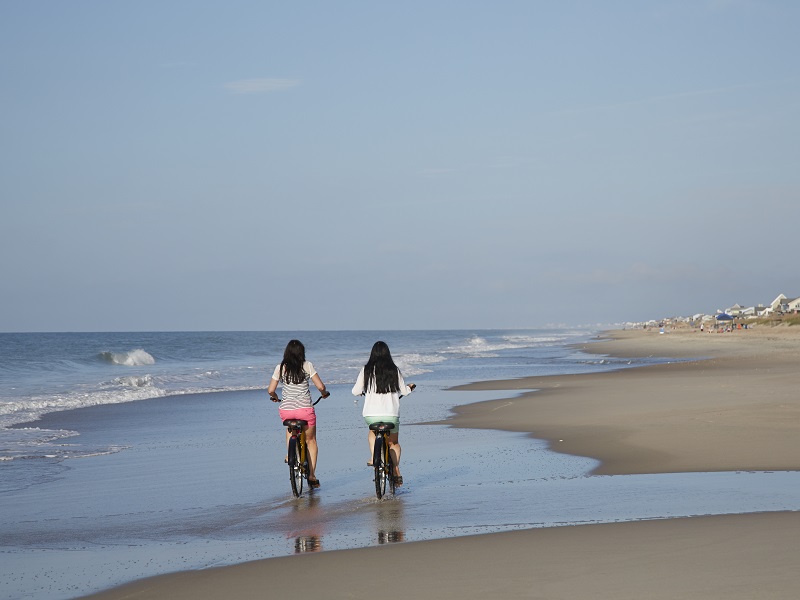 North Carolina author, Nicholas Sparks, is notorious for his romance novels that take place around the southeastern coast of North Carolina. In his stories, Sparks outlines and references the charmingly quaint towns of the North Carolina southeastern coast and places readers along the tranquil coastlines of paradise. Now readers have the option to visit and tour the beach towns that inspired the settings of Nicholas Sparks' best-selling novels.
On a three-day tour, you and your girlfriends can stop in places like Edenton, known as the "South's Prettiest Small Town" and home to his novel The Rescue. Other stops along the tour include Swansboro, Beaufort, Wilmington, and Rodanthe. Take a break on day two to join the self-guided Walk to Remember tour in New Bern where many famous movies like The Notebook, were filmed. This tour is not only comprised of countless Nicholas Spark's references and popular filming locations but incorporates a history lesson of North Carolina and a new way to see the Crystal Coast.
Hungry Town Tours in Beaufort also offers "A Ride to Remember" bike tour making for a memorable experience to learn about the town that inspired Sparks' numerous novels.
Relax and unwind on the pristine beaches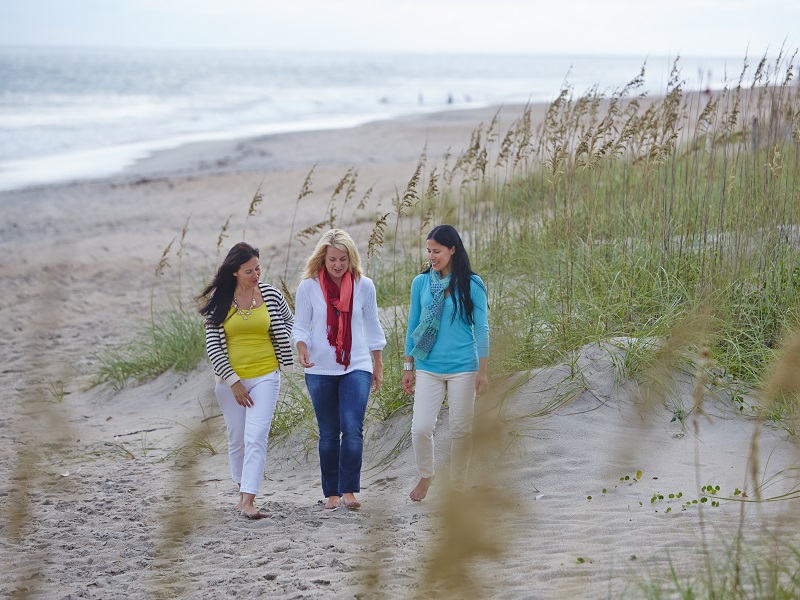 Relaxing and laying on the beach is one of our favorite things to do in Emerald Isle. You and your girlfriends can take a walk along the shore, grab a few chairs, and soak your feet in the water at high tide. Laughing, reminiscing, and catching-up on life with friends, while listening to lapping waves in the background makes visiting the beaches in Emerald Isle one of the most peaceful and serene places to visit on the east coast.
Indulge in local fare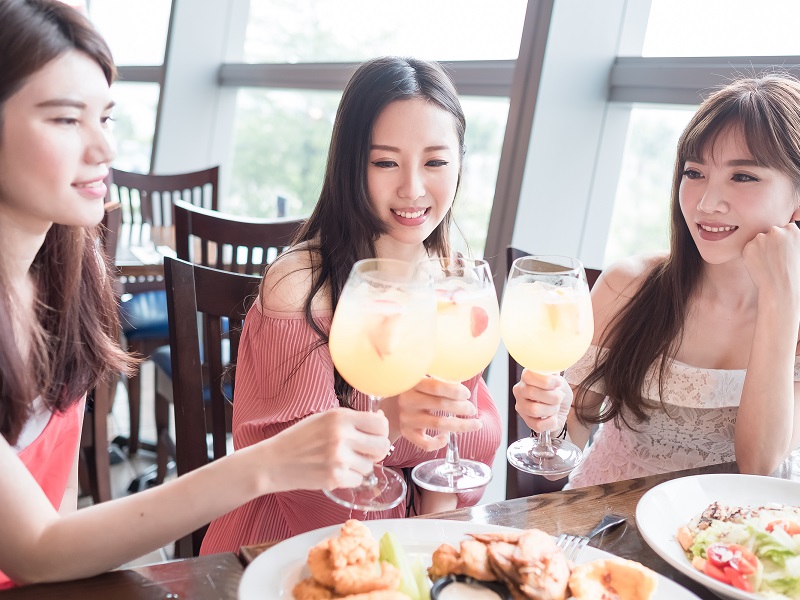 With a wide variety of restaurants, your culinary palette will always be pleased. You can venture to one of the many seafood establishments like Clawson's Restaurant, for the fresh catch of the day, or head over to Caribsea for a fine dining experience with a delectable wine selection. Emerald Isle area restaurants offer a diverse option of cuisines, from Italian and American to steakhouses and delis. You'll find a combination of southern and local hospitality mixed with high-quality fares. If you are looking for waterfront restaurants, Emerald Isle and the surrounding communities will not disappoint with an abundance of great ocean and sound views that make for an even finer dining experience.
Pamper the girls with some spa time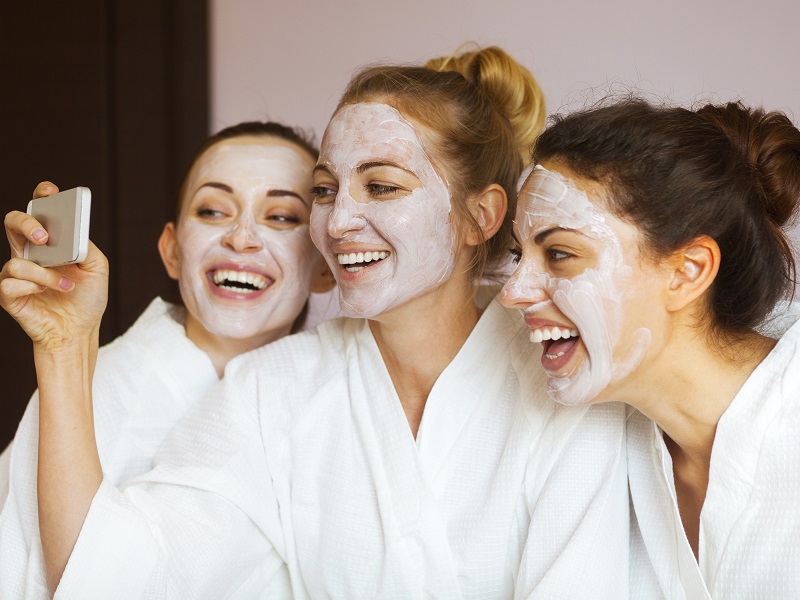 A girl's weekend isn't complete without pampering and relaxation. Visit one of our area spas for a deep tissue massage or a pedicure. An array of spa, skincare and massage treatments are offered to delight your mind, body, and spirit. For the ultimate luxury, consider Emerald Isle Wellness Massage & Yoga. They offer massage and bodywork therapy that is good for your body and mind. Or make plans for the girls to attend one of their yoga classes offered throughout the week for even more quality girl time.
At Emerald Isle Realty, we take pleasure in helping our guests have an unforgettable experience. Contact our office at (855) 893-1962 for rental bookings, assistance with planning your trip and any other inquiries.