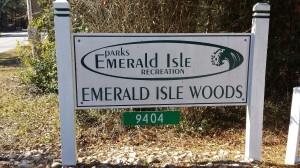 Emerald Isle Woods Park Trail
Difficulty: Easy/Moderate (some inclines and declines)
Length: 1.7 miles
Parking Availability: Ample parking for trail entrance to Emerald Woods Park on Coast Guard Rd.
Entry/Exit Point(s): Main entrance to park on Coast Guard Rd.
Facilities: Yes
Emerald Isle Woods Park is one of the most popular parks in the area. When you arrive to the park there is a large sign and white fence, so it's not hard to miss.
The trails are nice and worn with color-coded arrows on the trees to keep you on the correct rout. These are ideal for walking and jogging and provide beautiful views of Bogue Sound and the Cameron Langston Bridge.
With the trail being part of the NC Birding Trail, you are sure to spot some osprey, egrets, wading birds, woodpeckers and shore birds. Plus you might spot some white-tailed deer and gray squirrels, so be sure to bring a camera to capture the wildlife.
The park is not huge, but it's nice and quiet. A big plus is that is it dog and bike friendly. It also features a nice boardwalk, multiple grills, floating dock, pier and a picnic pavilion.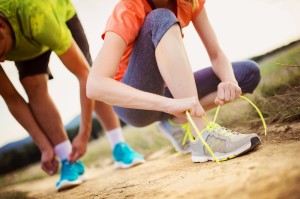 Theodore Roosevelt Trail, NC Aquarium at Pine Knolls Shores
Difficulty: Easy
Length: 1.25 miles
Parking Availability: NC Aquarium parking lot
Entry/Exit Point(s): Accessible from outside NC Aquarium, in parking lot.
Facilities: Restrooms inside NC Aquarium
Directions: The NC Aquarium at Pine Knoll Shores is located at mile marker 7, NC Hwy 58 on Bogue Banks.
Although this trail is part of the NC Aquarium, you don't need to enter the aquarium or pay a fee to enjoy it. You can find the entrance to the trail by locating the sign at the west end of the parking lot.
With scenery of the maritime forest, the trail winds along the top of a high dune ridge and alongside interior and soundside marshes. Birds, insects, lizards, turtles, snakes and occasional mammals can be found along the trail. At the end of the trail there is a loop that brings you back to the parking lot, and should only take you an hour to complete if you're going at a steady speed. The trail closes at 4:30 p.m. daily, so be sure to plan your time accordingly.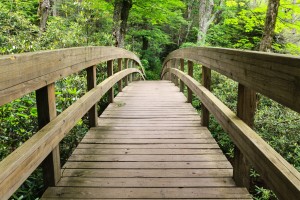 Hoop Pole Creek Nature Trail
Difficulty: Easy
Length: 0.5 miles walk to sound-other short trails off main trail are marked.
Parking Availability: Parking available at adjacent shopping center.
Entry/Exit Point(s): Trailhead just off NC Hwy 58 in Atlantic Beach, across from Bojangles. Turn into Atlantic Station Shopping Center entrance. Open daylight hours.
Facilities: None
The Hoop Pole Creek Nature Trail is an area favorite for nature walks, so a camera is a must! This trail runs through a maritime forest and ends along the estuarine shoreline.
At the trailhead there are pamphlets to help guild yourself through this well-marked and maintained trail. Since it is flat, mostly paved and less than a mile loop it is an easy walk.
The trail begins as a wooden walkway, but then after a few feet you enter a bush and tree tunnel. Along the way be sure to check out the shallow waters and catch a glimpse of the crabs and other critters. At the end of the trail there are usually shore birds and cranes by the bay. You might even see some deer, red foxes, raccoons and snakes. The entire trail is beautiful, but be sure to bring bug spray for protect from the mosquito's.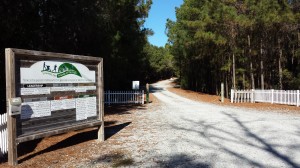 Emerald Isle Multi-Use Path
Difficulty: Easy, paved, even surface
Length: 11 miles along NC Hwy 58 from Coast Guard Rd. to Ring St.
Parking Availability: Various locations along the path
Entry/Exit Point(s): Coast Guard Rd/Fairfax St. (path follows NC Hwy 58)
Facilities: None
Directions: Take NC Hwy 58 onto Emerald Isle
The Multi-Use Path in Emerald Isle is often used for walking and jogging, but is primarily used for biking. The path allows community members and cyclist greater access to key destinations in town through means other than vehicles, as well as provides more area for recreational opportunity for cycling, running and jogging in Emerald Isle.