While some may opt for souvenirs and keep-sakes from their vacation, a photo is the perfect way to remember your time away from home. Finding the perfect places to take your photos though, is another story. Whether you're a budding photographer, pro shooter or even a camera phone aficionado, Emerald Isle has plenty of scenic backgrounds to capture your vacation.
The Perfect Vacation Photo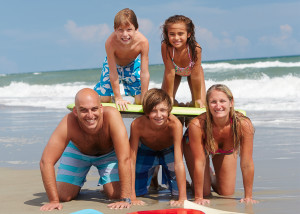 There are plenty of ways to get creative when taking a photo of your vacation. Not every shot has to be a scenery shot, just like not every shot needs to be a group shot. A popular way of creating a great vacation photo is using the Rule of Thirds. This method plots your rectangular image into nine even rectangular sections allowing you to separate your subjects in the photo. For vacation photos, the method usually places your primary subject (yourself, family) in one of the bottom corner sections and your secondary subject (landmark, scenery, etc.). Try this method for capturing some unique vacation shots!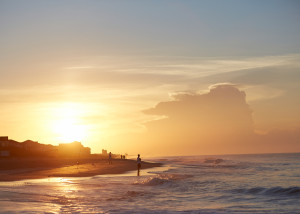 Emerald Isle has plenty of photogenic hot spots all around. First, the beaches make for excellent photos given their natural beauty. Another great choice in Emerald Isle is the Bogue Inlet Pier, especially during one of the Crystal Coast's famous sunsets. Further down the shore are more creative shot choices in the smaller more historic towns. Whichever your choice, there are plenty of ways to get creative about what you shoot.
Here are a couple of suggestions for landmarks you can visit:    
Cape Lookout Lighthouse and National Seashore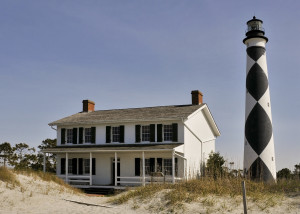 Talk about a scenic trip. Located about an hour from Emerald Isle, the National Seashore, where the lighthouse is located, is remote and stretches a good portion along the Crystal Coast. Along the way to the seashore you'll be traveling by ferry, giving you a great vantage point to shoot some shots of the small islands along the way or maybe even a dolphin swimming next to the ferry.
Once on the National Seashore, you'll find emerald colored water and white sands suitable for breathtaking scenery shots. The real attraction here though is the Cape Lookout Lighthouse. An antique among the coast, this lighthouse offers the perfect backdrop to shoot family photos. While you're there, ask about guided/unguided tours where you can climb to the top and capture some amazing panoramic shots of the Atlantic.
Another hotspot area is the wild horses at Shackleford Banks. These uninhibited horses live on the island independently with little to no interaction with humans. Catching a photo of these horses grazing would be a treasure, but exercise extreme caution when approaching them as they could be startled easily. And because Shackleford Banks is a remote island, this makes it a prime location for vacation photos without other tourists lingering in the background.
This is a day trip, so make the most of it; pack a lunch and plan some activities in between on the way over there such as a ranger guided tour or kayak trip.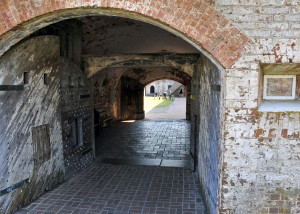 Truly a wonder along the coast is Fort Macon State Park. The area where the park is located is filled with vast a history of wartime events spanning from 1747 till its official closure in 1903 following it's tenure as a federal prison. The park is a sight to see as it's surrounded by three bodies of water, the Atlantic, Beaufort Inlet and the Bogue Sound. And since Fort Macon is part of the North Carolina State's Park System, its conservation of salt marshes and estuaries has been strict, allowing for the natural beauty to flourish. The marshes and estuaries near Fort Macon State Park are great locations to capture the raw beauty of the area, as well as excellent places to capture pictures of the areas birds.
Fort Macon State Park is perfect spot for photos. The outside of the fort itself offers amazing photo opportunities. Tours are also available year-round, adding to its photo appeal. Inside you'll find various exhibits in rooms of the fort called "casemates."
There are so many places to capture great photos around the Emerald Isle area, but don't forget, you must take the token shot off the balcony or deck of your rental to make everyone back home jealous!